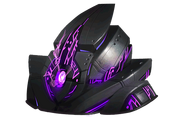 General Information
Edit
Circuitry extracted from High Cerulean technology, these cores enable level 15 and 16 building upgrades.                                                
Level 15 buildings are here!
Edit
"
Level 15 has arrived, and with it some new additions! All buildings and Turrets can now reach a new level of power, which also means a new level of Research at your Tech Lab, greatly increasing the power of your Troops! This also means a greater SPP cap at your Generals Quarter and greater Troop Capacity at your Warp Gates!

In order to access these new levels, the Vermillion Core has been released! Make sure to check the featured tab of the shop and get yours today!

The war for Cerulea IV is escalating, capitalize on this new technology or become another statistic!

"

—Edgeworld, Mail, 2013 Jan 2
The Vermillion Core appeared on 2013 January 5 for more than two times as much as a Cerulean Core (

 40). It can be won from Zoot's Loot, the January Player Tournament between ranks 6 and 10, a KIRA's Gift, the top prize for Zoots Wheel for a few days, and Force Tournaments.
Promotions
Edit
Vermillion Core/2013#Promotions
Super Saturday Spend Event!, 2014 Jan 11
Edit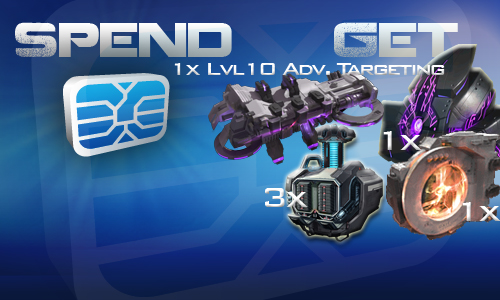 "
Participate in the Super Saturday Spend Event to earn AMAZING Rewards!

Spend the qualifying amount to earn the Following prizes:

Spend 100 Platinum to receive 6 G-Force Mystery Boxes!
Spend 300 Platinum to receive 1 Ruby Core, 1 Vermillion Core + above prizes!
Spend 500 Platinum to receive 2 Black Market Patches + above prizes!
Spend 1000 Platinum to receive 1 Deluxe Time Travelers Crate + above prizes!
Spend 2000 Platinum to receive 1 Level 15 Vermillion Advanced Targeting Smart Part, 1 Annihilator Crate + above prizes!

This deal will only be available for the next 24 hours so make sure you reach your Tier in time!

NOTE: Prizes will be awarded by October 14th, 2013[sic]. Limit 1 Prize per Tier.

"

—Edgeworld, Daily Update
Hard Core Mystery Box!, 2013 Sep 18; Oct 4 0:00 (1d); Oct 17 12:00 (1d); 2014 Jan 21
Edit
2014 Jan 23 13:00 (1d)
Edit
Upgrade with the Cerulean Construction Crate!, 2014 Jan 24 13:00 (1d)
Edit
"
Upgrade your Buildings with the Cerulean Construction Crate!

This Crate contains all the supplies you'll need to get your buildings up to Level 18! Open this Box to receive 5x Cerulean Cores, 2x Vermillion Cores and 1x Ruby Core! This box also contains 5 Mystery Accelerators ranging anywhere from 8 hours to 14 days! Check the item description for a full set of possible Accelerators you can win!

This Crate will only be in the Shop for a VERY limited time! Stock up and save today!

"

—Edgeworld, Mail
Platinum Deal Day!, 2014 Jan 27 18:00 (1d)
Edit
Purchase G-Force Boxes, Win Prizes!, 2014 Jan 31
Edit
"
Today you can pick up major rewards just by buying G-Force Mystery Boxes!

This Mystery Box contains 1,000 Troops with a chance to take home 1,000 Incineraptors, Decimators or Battlecruisers!

Purchase 10 G-Force Mystery Boxes, Get 2 Vermillion Cores!

Purchase 20 G-Force Mystery Boxes, Get 2 Vermillion Cores and 1 99% Training Accelerator!

Purchase 25 G-Force Mystery Boxes, Get 3 Vermillion Cores and 3 99% Accelerators!

Limit One Prize Per Player, Per Sector. Event ends at 1:00pm PDT on February 1st. Prizes will be paid out by 02/04/14.

"

—Edgeworld, Mail
2014 Feb 9 9:00 (1d)
Edit
Hard Core Mystery Box!, 2014 Feb 10 13:00 (1d)
Edit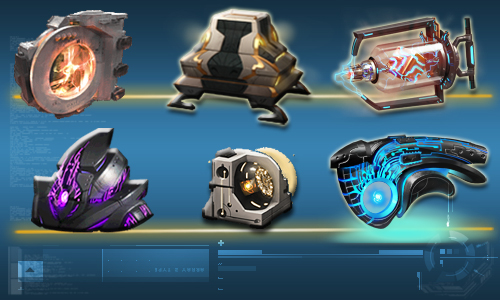 "
The Hard Core Mystery Box is now available in the Shop! We're DOUBLED the chances of winning 1 or 5 Ruby Cores AND added Cerulean Racks and Vermillion Racks inside!

Open this Box for a chance to win 5 Ruby Cores, 1 Ruby Core, Vermillion Rack (5 V-Cores), Cerulean Rack, Cerulean Cores, Onyx Cores, Synthetic Control Cores or Incendiary Cores!

Starting now until 1:00pm PST on February 11th, Purchasing Hard Core MB's will earn you rewards!

Purchase 20 Hard Core Mystery Boxes and win 1 Ruby Core GUARANTEED! There is NO LIMIT to this deal! Prizes will be paid out by February 13th.

"

—Edgeworld, Mail

 15
Hard Core Mystery Box!, 2014 Feb 20 13:00 (1d)
Edit
"
The Hard Core Mystery Box is now available in the Shop! We're DOUBLED the chances of winning 1 or 5 Ruby Cores AND added Cerulean Racks and Vermillion Racks inside!

Open this Box for a chance to win 5 Ruby Cores, 1 Ruby Core, Vermillion Rack (5 V-Cores), Cerulean Rack, Cerulean Cores, Onyx Cores, Synthetic Control Cores or Incendiary Cores!

Starting now until 1:00pm PST on February 21st, Purchasing Hard Core MB's will earn you rewards!

Purchase 20 Hard Core Mystery Boxes and win 1 Ruby Core GUARANTEED! There is NO LIMIT to this deal! Prizes will be paid out by February 24th.

"

—Edgeworld, Mail
Builder's Box SALE!, 2014 Feb 28; Apr 28 16:00 (1d); Jun 15; Jul 9 17:00 (23h); Aug 6 12:00 (1d)
Edit
"
For a limited time, the Builder's Box will be ON SALE in the Shop!

Open the Builder's Box for a chance to win Building Cores or Accelerators! As an added bonus, we've permanently added the 99% Building Accelerator to the Builder's Box as well! Priced at only 9 Platinum, this deal won't be around long!

--The Edgeworld Team

"

—Edgeworld, Mail
Hard Core Mystery Box!, 2014 Mar 8 (7 17:00) (2d16h)
Edit

 12
Upgrade with the Cerulean Construction Crate!, 2014 Mar 11 15:00 (20h); Jul 1 15:00 (1d2h)
Edit
"
Upgrade your Buildings with the Cerulean Construction Crate!

This Crate contains all the supplies you'll need to get your buildings up to Level 18! Open this Box to receive 5x Cerulean Cores, 2x Vermillion Cores and 1x Ruby Core! This box also contains 5 Mystery Accelerators ranging anywhere from 8 hours to 14 days! Check the item description for a full set of possible Accelerators you can win!

This Crate will only be in the Shop for a VERY limited time! Stock up and save today!

"

—Edgeworld, Daily Update, Mail
Mystery Box Meltdown, 2014 Mar 18 10:00 (1d)
Edit
"
Greetings Commander,Zoot has given us the task of emptying his Mystery Boxes so that he can create bigger and better ones!

All day long, we'll be featuring different Mystery Boxes on SALE! Check the Featured Tab for today's deals on Hacker's Patch Mystery Boxes, Builder's Boxes, Bomb Squad Mystery Boxes and Ruby Armor Mystery Boxes!

Some of these deals may never return, so be sure to get in on the action NOW!

--The Edgeworld Team

"

—Edgeworld, Mail
Decimation Crate Flash Sale!, 2014 Apr 3 15:00 (1d)
Edit
"
For the next 24 hours, Decimation Crates will be discounted and available for the low price of 750 Platinum!

160x Decimators!
8x Incendiary Cores
5x Vermillion Cores
5x Cerulean Core
5x 14-Day Accelerators
plus much more!

Go to the shop and stock up today before its too late!

"

—Edgeworld, Mail
Weekend Warriors!, 2014 Apr 18 17:00 (2d17h)
Edit
"
Greetings Commander,

The Weekend is finally upon us and we will be featuring SALES all weekend long!

Check out the Featured Tab for deals on the Vermillion Variance Vault, Accelerators, Tri-Force Crates and the Cerulean Construction Crate!

Scarbide Racks will also be on SALE at their lowest price EVER!

This message will self destruct at 10:00am PDT on April 21st.

Good luck out there!

--The Edgeworld Team

"

—Edgeworld, Mail
Upgrade with the Cerulean Construction Crate!, Apr 23 15:00 (1d); May 12 16:00 (1d20h); Jun 21 9:00 (1d3h); Jul 27 14:00 (1d); Aug 28 16:00 (1d); Sep 21 16:00 (1d); Oct 27 10:00 (1d)
Edit
"
Upgrade your Buildings with the Cerulean Construction Crate!

This Crate contains all the supplies you'll need to get your buildings up to Level 18! Open this Box to receive 5x Cerulean Cores, 2x Vermillion Cores and 1x Ruby Core! This box also contains 5 Mystery Accelerators ranging anywhere from 8 hours to 14 days! Check the item description for a full set of possible Accelerators you can win!

This Crate will only be in the Shop for a VERY limited time! Stock up and save today!

"

—Edgeworld, Mail
Annihilator and Decimation BOGO!, 2014 May 5 12:00 (1d)
Edit
"
Greetings Commander,

We've got some Top Shelf items to liquidate. Starting now, the Annihilator Crate and Decimation Crate are both on SALE!

But that's not all!

For every Annihilator Crate you purchase between 12:00pm on May 5th and 12:00pm on May 6th, you'll win one free!

For every Decimation Crate you purchase between 12:00pm on May 5th and 12:00pm on May 6th, you'll win one free!

There is NO LIMIT to the free stuff you can win! Prizes will be delivered by 12:00pm PDT on May 7th.

Stay Classy, Cerulea!

--The Rebellion

"

—The Rebellion, Mail
Decimation Crate and Decimation MB Sale!, 2014 May 18 13:00 (1d)
Edit
"
Greetings Commander,

For a limited time, pick the Decimation Crate for 750 Plat and the Decimation MB for 10 Plat.

The Decimation Crate contains:

3x Decimator Carriers
8x Incendiary Core
5x Vermillion Core
5x Cerulean Core
20x Vulcan Box
5x 14 Day Accelerator
1x Elite Weapons Box

The Decimation Mystery Box can contain up to 1,000 Decimators!

Good Luck!

-The Edgeworld Team

"

—Edgeworld, Mail
Hard Core Mystery Box!, 2014 May 23 12:00 (1d); Jul 5 18:00 (23h)
Edit
"
The Hard Core Mystery Box is now available in the Shop! We're DOUBLED the chances of winning 1 or 5 Ruby Cores AND added Cerulean Racks and Vermillion Racks inside!

Open this Box for a chance to win 5 Ruby Cores, 1 Ruby Core, Vermillion Rack (5 V-Cores), Cerulean Rack, Cerulean Cores, Onyx Cores, Synthetic Control Cores or Incendiary Cores!

"

—Edgeworld, Mail
Hard Core Mystery Box!, 2014 Jul 19 8:00 (1d8h); Jul 26 8:00 (1d6h); Aug 12 15:00 (1d)
Edit
"
The Hard Core Mystery Box is now available in the Shop!

JUST ADDED: A chance to win an Eclipse Core and Blast Core!

Open this Box for a chance to win 5 Ruby Cores, 1 Ruby Core, Vermillion Rack (5 V-Cores), Cerulean Rack, Cerulean Cores, Onyx Cores, Synthetic Control Cores or Incendiary Cores!

"

—Edgewotld, Mail
Annihilator and Decimation BOGO!, 2014 Jun 20 11:00 (1d1h)
Edit
"
Greetings Commander,

We've got some Top Shelf items to liquidate. Starting now, the Annihilator Crate and Decimation Crate are both on SALE!

But that's not all!

For every Annihilator Crate you purchase between 12:00pm on June 20th and 12:00pm on June 21st, you'll win one free!

For every Decimation Crate you purchase between 12:00pm on June 20th and 12:00pm on June 21st, you'll win one free!

There is NO LIMIT to the free stuff you can win! Prizes will be delivered by 12:00pm PDT on June 22nd.

"

—Edgeworld, Mail
=Hard Core Mystery Box!, 2014 Sep 5 12:00 (1d)
Edit
"
The Hard Core Mystery Box is now available in the Shop!

Open this Box for a chance to win Eclipse Core, Blast Core, 5 Ruby Cores, 1 Ruby Core, Vermillion Rack (5 V-Cores), Cerulean Rack, Cerulean Cores, Onyx Cores, Synthetic Control Cores or Incendiary Cores!

BONUS: Starting now until 12:00pm PDT on September 6th, Buy 3 Hard Core Mystery Boxes and you will win 1 Hard Core Mystery Box FREE!

There is NO LIMIT to this deal! Prizes will be paid out by 12:00pm PDT on September 7th.

"

—Edgeworld, Mail
Hard Core Mystery Box!, 2014 Sep 13 12:00 (1d)
Edit
"
The Hard Core Mystery Box is now available in the Shop!

Open this Box for a chance to win Eclipse Core, Blast Core, 5 Ruby Cores, 1 Ruby Core, Vermillion Rack (5 V-Cores), Cerulean Rack, Cerulean Cores, Onyx Cores, Synthetic Control Cores or Incendiary Cores!

BONUS: Starting now until 12:00pm PDT on September 14th, Buy 3 Hard Core Mystery Boxes and you will win 1 Hard Core Mystery Box FREE!

There is NO LIMIT to this deal! Prizes will be paid out by 12:00pm PDT on September 15th.

"

—Edgeworld, Mail
Hard Core Mystery Box!, 2014 Sep 22 0:00 (23h59m)
Edit
"
The Hard Core Mystery Box is now available in the Shop!

Open this Box for a chance to win Eclipse Core, Blast Core, 5 Ruby Cores, 2 Ruby Core, Vermillion Rack (5 V-Cores), Cerulean Rack, Cerulean Cores, Onyx Cores, Synthetic Control Cores or Incendiary Cores!

BONUS: Starting now until 11:59pm PDT on September 22nd, Buy 3 Hard Core Mystery Boxes and you will win 1 Hard Core Mystery Box FREE!

There is NO LIMIT to this deal! Prizes will be paid out by 12:00pm PDT on September 23rd.

"

—Edgeworld, Mail
BONUS: Hard Core Mystery Box!, 2014 Oct 3 8:00 (1d2h)
Edit
"
The Hard Core Mystery Box is now ready for you to upgrade your buildings!

Open this Box for a chance to win Eclipse Core, Blast Core, 5 Ruby Cores, 1 Ruby Core, Vermillion Rack (5 V-Cores), Cerulean Rack, Cerulean Cores, Onyx Cores, Synthetic Control Cores or Incendiary Cores!

BONUS: Starting now until 10:00am PDT on October 4th, Buy 2 Hard Core Mystery Boxes and you will win 1 Hard Core Mystery Box FREE!

There is NO LIMIT to this deal! Prizes will be paid out by 12:00pm PDT on October 5th.

"

—Edgeworld, Mail
Cerulean Construction Crate Sale + BONUS!, 2014 Oct 5 0:00 (23h59m)
Edit
"
Upgrade your Buildings with the Cerulean Construction Crate!

This Crate contains all the supplies you'll need to get your buildings up to Level 18! Open this Box to receive 5x Cerulean Cores, 2x Vermillion Cores and 2x Ruby Cores! This box also contains 5 Mystery Accelerators ranging anywhere from 2.5 hours to 14 days! Check the item description for a full set of possible accelerators you can win!

This Crate will only be in the Shop for a VERY limited time! Stock up and save today!

BONUS: Buy 2 Cerulean Construction Crates between now and 11:59pm PDT on October 5th and you'll get 1 Renegade Crate FREE!

There is NO LIMIT to this deal! Prizes will be awarded by 12:00pm PDT on October 6th.

"

—Edgeworld, Mail
Hard Core Mystery Box!, 2014 Oct 12 0:00 (23h59m)
Edit
"
The Hard Core Mystery Box is now available in the Shop!

Open this Box for a chance to win Eclipse Core, Blast Core, 5 Ruby Cores, 2 Ruby Core, Vermillion Rack (5 V-Cores), Cerulean Rack, Cerulean Cores, Onyx Cores, Synthetic Control Cores or Incendiary Cores!

BONUS: Starting now until 11:59pm PDT on October 12th, Buy 3 Hard Core Mystery Boxes and you will win 1 Hard Core Mystery Box FREE!

There is NO LIMIT to this deal! Prizes will be paid out by 12:00pm PDT on October 13th.

"

—Edgeworld, Mail
Builder's Box BONUS!, 2014 Oct 15 12:00 (1d)
Edit
"
For a limited time, the Builder's Box will be ON SALE in the Shop!

Open the Builder's Box for a chance to win Building Cores or Accelerators! As an added bonus, we've permanently added the 99% Building Accelerator to the Builder's Box as well! Priced at only 9 Platinum, this deal won't be around long!

BONUS: Between now and 12:00pm PDT on October 16th, buying two Builder's Boxes will get you one Builder's Box FREE!

There is NO LIMIT to this deal! Prizes will be given by 12:00pm PDT on October 17th.

--The Edgeworld Team

"

—Edgeworld, Mail
Cerulean Construction Crate Sale + BONUS!, 2014 Oct 16 0:00 (23h59m)
Edit
"
Upgrade your Buildings with the Cerulean Construction Crate!

This Crate contains all the supplies you'll need to get your buildings up to Level 18! Open this Box to receive 5x Cerulean Cores, 2x Vermillion Cores and 2x Ruby Cores! This box also contains 5 Mystery Accelerators ranging anywhere from 2.5 hours to 14 days! Check the item description for a full set of possible accelerators you can win!

This Crate will only be in the Shop for a VERY limited time! Stock up and save today!

BONUS: Buy 2 Cerulean Construction Crates between now and 11:59pm PDT on October 16th and you'll get 1 Renegade Crate FREE!

There is NO LIMIT to this deal! Prizes will be awarded by 12:00pm PDT on October 17th.

"

—Edgeworld, Mail
Hard Core Mystery Box Bonus!, 2014 Oct 16 15:30 (1d30m)
Edit
"
Boost your building with the Hard Core Mystery Box, now available in the shop!

BONUS: Between now and 4:00pm PDT on October 17th, every 5 Hard Core Boxes you buy will get you 2 Hard Core Boxes FREE!

There is NO LIMIT to this deal! Prizes will be awarded by 12:00pm PDT on October 18th.


--Edgeworld Team

"

—Edgeworld, Mail
Builder's Box BONUS!, 2014 Oct 20 16:00 (1d)
Edit
"
For a limited time, the Builder's Box will be ON SALE in the Shop!

Open the Builder's Box for a chance to win Building Cores or Accelerators! As an added bonus, we've permanently added the 99% Building Accelerator to the Builder's Box as well! Priced at only 9 Platinum, this deal won't be around long!

BONUS: Between now and 4:00pm PDT on October 21st, buying two Builder's Boxes will get you one Builder's Box FREE!

There is NO LIMIT to this deal! Prizes will be given by 12:00pm PDT on October 22nd.

--The Edgeworld Team

"

—Edgeworld, Mail
Hard Core Mystery Box BONUS!, 2014 Oct 21 10:00 (1d)
Edit
"
The Hard Core Mystery Box is now available! Open this Mystery Box for a chance to take home some of Edgeworld's rarest Cores! This box contains a chance to win Ruby Cores, Vermillion Cores, Cerulean Cores, Incendiary Cores, Decimator Cores, Onyx Cores and Synthetic Control Cores! This Box also contains the chance to win 5 Ruby Cores or 5 Vermillion Cores!

BONUS: Between now and 10:00am PDT on October 22nd, every 10 Hard Core Boxes you buy will get you one Quintessential Crate FREE!

This deal is limited to 25 prizes. Prizes will be awarded by 12:00pm PDT on October 23rd.

"

—Edgeworld, Mail
Decimation Crate SALE + BONUS!, 2014 Oct 25 16:00 (1d)
Edit
"
For the next 24 hours, Decimation Crates will be discounted and available for the low price of 750 Platinum!

Open this crate for a chance at:

160[sic]x Decimators!
8x Incendiary Cores
5x Vermillion Cores
5x Cerulean Core
5x 14-Day Accelerators
plus much more!


BONUS: From now until 4:00pm PDT on October 26th, buying 4 Decimation Crates will get you 1 Big Bang Bundle FREE! (Limit 1)

This deal is limited to 1 prize. Prizes will be distributed by 12:00pm PDT on October 27th

Go to the shop and stock up today before its too late!

"

—Edgeworld, Mail
Hard Core Mystery Box Sale + BONUS!, 2014 Oct 26 16:00 (1d)
Edit
"
Greetings Commander,

For a limited time, the Hard Core Mystery Box is ON SALE!

Open this Box for a chance to win 5 Ruby Cores, 1 Ruby Core, Vermillion Rack (5 V-Cores), Cerulean Rack, Cerulean Cores, Onyx Cores, Synthetic Control Cores or Incendiary Cores!

BONUS: Between now and 4:00pm PDT on October 27th, every 20 Hard Core Boxes you buy will earn you 10 Hard Core Boxes FREE!

This deal is limited to 50 prizes. Prizes will be distributed by 12:00pm PDT on October 28th.

"

—Edgeworld, Mail
Vermillion Cores 60% OFF!, 2014 Jan 22 11:00 (2d)
Edit
"
Vermillion Cores are on sale for the LOW PRICE of only 40 Platinum!

There has never been a better time to stock up on Vermillion Cores to complete your Level 15 and 16 builds! This is the lowest price Vermillion Cores have ever been, so make sure to take advantage before it's too late!

"

—Edgeworld, Mail
Ruby and Vermillion Sales!, 2014 Feb 10 15:00 (1d); Feb 28 9:00 (5h); Mar 18 13:00 (1d); Jun 26; Jul 3 15:00 (1d2h)
Edit
"
Vermillion Cores and Ruby Cores are now on Sale in the Shop! Check the featured Tab and pick up Vermillion Cores for only 40 Platinum and Ruby Cores for only 100 Platinum!

This deal will disappear soon, so be sure to get in on the action while it lasts!

"

—Edgeworld, Mail
Building Core Sales, 2014 Mar 8 12:00 (1d23h)
Edit
"
For a limited time, Ruby, Vermillion AND Cerulean Cores are all ON SALE! Visit the featured tab and start building!

--The Edgeworld Team

"

—Edgeworld, Mail

 40
Building Core Sales, 2014 Apr 15 13:00 (1d4h)
Edit
"
For a limited time, Ruby, Vermillion AND Cerulean Cores are all ON SALE! Visit the featured tab and start building!

--The Edgeworld Team

"

—Edgeworld, Mail

 35
Ruby and Vermillion Sales!, 2014 May 9 17:00 (1d)
Edit
"
Greetings Commander!

Vermillion Cores and Ruby Cores are now on Sale in the Shop! Check the featured Tab and pick up Vermillion Cores for only 35 Platinum and Ruby Cores for only 99 Platinum!

This deal will disappear soon, so be sure to get in on the action while it lasts!

-The Edgeworld Team

"

—Edgeworld, Mail
Building Core SALES!, 2014 May 23 14:00 (1d21h)
Edit
"
Greetings Commander,

Start leveling up with our Building Cores SALE!

Cerulean Cores upgrades up to level 14 for 8 Plat.
Vermillion Cores upgrades to level 15 and 16 for 35 Plat.
Ruby Cores upgrades to level 17 and up for 99 Plat.


-The Edgeworld Team

"

—Edgeworld, Mail
Building Core Sales, 2014 Jun 13 6:00 (1d4h)
Edit
"
For a limited time, Ruby, Vermillion AND Cerulean Cores are all ON SALE! Visit the featured tab and start building!

--The Edgeworld Team

"

—Edgeworld, Mail

 40
Ruby and Vermillion Sales!, 2014 Jul 28 (defunct); Aug 14; Aug 22 10:00 (1d); Sep 10 16:00 (20h); Oct 19 9:00 (23h)
Edit
"
Vermillion Cores and Ruby Cores are now on Sale in the Shop! Check the featured Tab and pick up Vermillion Cores for only 40 Platinum and Ruby Cores for only 100 Platinum!

This deal will disappear soon, so be sure to get in on the action while it lasts!

"

—Edgeworld, Mail
Weekend Sales, 2014 Aug 29 16:00 (2d20h)
Edit

 40
Weekend Sales, 2014 Sep 19 15:00 (3d19h)
Edit
Weekend Sales!, 2014 Oct 24 16:00 (2d23h)
Edit
"
Greetings Commander,

All weekend long, we'll be featuring different items on SALE! Check the store now deals on the Top Token Crate, EradiCrate, Decryption Key Ring, Ruby and Vermillion Cores. Stock up today!

--The Edgeworld Team

"

—Edgeworld, Mail

 35