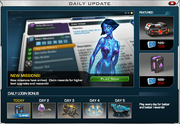 New Turret and Background Art! (2013 Jun 13)
Edit
"
New art for many of the turrets as well as base backdrops are now live in Edgeworld! Enjoy this great new art as you upgrade your turrets and build up your HQ, Aurora-1 and Caldera-2 bases!

If you are having any graphical issues, please make sure to EMPTY YOUR BROWSER'S CACHE!

"

—Edgeworld, Mail
Level 17 Upgrades Released! (2013 Jun 13)
Edit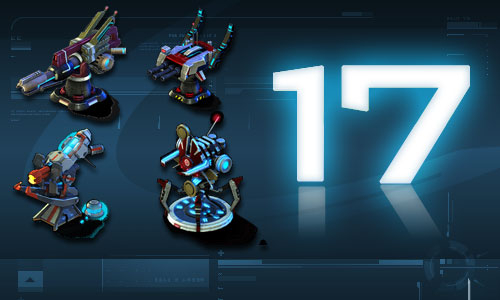 "
Level 17 has arrived, and with it some new additions! You will see a greater increase in the power of your Troops, Buildings, Engineering Lab Parts and Generals, a larger Base Size, and significantly increased Warp Gate capacities at Level 17, so it is essential that you start upgrading your base today!

Furthermore, in addition to being able to build more of most turret types, you can now build up to 4 Bunkers with a Level 17 Command Center! Garrison troops in these new Bunkers to fortify your base's defenses!

In order to access these new levels, the Ruby Core has been released! The only way to get this new Core is to win it in the Wheel Game, so be sure to check out the Wheel Game today!

The war for Cerulea IV is escalating, capitalize on this new technology or become another statistic!

"

—Edgeworld, Mail
MAJOR UPDATE (19th April 2013)
Edit
"
Sector merges will be starting across Edgeworld very soon, so be sure to check the forum for a full FAQ on the process today!
"

—Edgeworld, Mail, priority, 2013 Apr 23
http://community.kabam.com/forums/showthread.php?170877-Server-Merge-FAQ
MAJOR UPDATE (16th April 2013)
Edit
At long last, Buildings, Troops, Generals and Research can finally be upgraded to Level 16!You will see a greater increase in the power of your Troops, Buildings and Generals, a larger Base Size, additional Levels of Research, and significantly increased Warp Gate capacities at Level 16, so it is essential that you upgrade your base today!Additionally, upon upgrading your Resource Converter building to Level 16, you will also gain a brand new powerful turret called the Orbital Strike Cannon!  This unique turret will hover over your Resource Converter and convert your existing resources into high-powered energy blasts that lay waste to your enemies!  Please check the forums for more information on the Level 16 upgrades along with this brand new turret.For a Limited Time only, Build Times for Level 16 Buildings are 50% OFF through 12pm PST on April 22nd!  Wipe out your competition by rapidly upgrading all of your Buildings, Troops, Generals and Research to Level 16 today!
MAJOR UPDATE (2nd January 2013)
Edit
Level 15 has arrived, and with it some new additions!  All buildings and Turrets can now reach a new level of power, which also means a new level of Research at your Tech Lab, greatly increasing the power of your Troops!  This also means a greater SPP cap at your Generals Quarter and greater Troop Capacity at your Warp Gates!  
In order to access these new levels, the Vermillion Core has been released!  Make sure to check the featured tab of the shop and get yours today! 
The war for Cerulea IV is escalating, capitalize on this new technology or become another statistic!
MAJOR UPDATE (13th September 2012)
Edit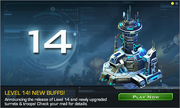 Level 14 has arrived! With it, you can build more buildings; the size of your Base will increase further, and enjoy new Campaign levels in the Defense Simulator!
Additionally, The Heavyweight Turret has had its health increased to allow it to better protect your base.
The Incendiary Turret has experienced an increase in both Damage and Health to make it comparable to the Heavyweight and Sniper Turrets.
Finally, Fan Favorite troops "Specters" are enjoying a massive boost in power!
The war for Cerulea IV is escalating, capitalize on new technology, or become another statistic!
MAJOR UPDATE (27th July 2012)
Edit
Level 13 buildings has arrived! - Update includes new level 13 units and buildings; Level 13 command center expands size of base allowing more turrets to be built ; new design for level 13 command center.
Level 12 has arrived! - Update includes new level 12 units and buildings; New troop
Chimera
; New building: Fleet Academy, Defense Simulator, Defense Lab, Sniper Turret; New status bar, the Academy queue Defense queue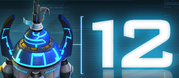 .
MAJOR UPDATE (6th January 2012)
Edit
Level 11 has arrived! - Updates include; new level 11 units and buildings; level 2500, 3000 and 3500 NPC's have been added, and there has also some changes to existing NPC bases and also some rule changes have been implemented.
Link to full Update info here

NEW SECTORS (2nd Jan 2012)
Edit
5 new sectors have been added Dragonfly Cluster (launched today) and the recently opened Small Magellanic Cloud, Ghost Head Nebula, Dragon Nebula, and Maia Nebula.
MAJOR UPDATE (9th Nov 2011)
Edit
Edgeworld was updated 9th November 2011 to include amongst other things; level 10 buildings, a new 'collect all' feature for resources, tooltips have been added to buildings and level 750, 1000, 1500, and 2000 NPC's have been unleashed.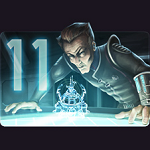 Ad blocker interference detected!
Wikia is a free-to-use site that makes money from advertising. We have a modified experience for viewers using ad blockers

Wikia is not accessible if you've made further modifications. Remove the custom ad blocker rule(s) and the page will load as expected.