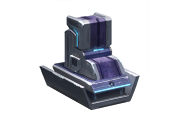 General information
Edit
| | | |
| --- | --- | --- |
| " | Open this special mystery box for a guaranteed chance to win rare multi-target equipment of various levels! | " |
New Stasis Mystery Crate - Limited Time!
Edit
"
The Stasis Mystery Crate contains some of the most rare and powerful concussion premium equipment for your Engineering Lab, such as the Frozen Scope and Frozen Dual Barrels! The Engineering Lab part "Frozen Dual Barrels" will allow any equipped turret to target and concuss multiple troops with each shot fired! The Stasis Mystery Crate can be purchased for 200 Platinum and will only be available for a LIMITED TIME, so make sure to visit the featured tab of the store to get yours today!
"

—Edgeworld, Mail, 2012 Oct 19?
New Parts Mystery Crates Available!
Edit
"
Haven't had a chance to check out one of the new 3 Mystery Crates yet? They are only available for a Limited Time so don't delay! The New Gatling, Stasis, and Advanced Weapons Mystery Crates can yield premium and powerful Engineering Lab Equipment that can multi-target and even concuss enemy troops with each shot! Items like Hyper Liquid Coolants, Reinforced Explosive Ammo, and Frozen Dual Barrels are all possibilities and can be yours, but only if you act fast! These 3 Mystery Crates will only be available until 12:00pm PST (Noon) on October 29th, so make sure to get yours today!
"

—Edgeworld, Mail, 2012 Oct 26?
Ad blocker interference detected!
Wikia is a free-to-use site that makes money from advertising. We have a modified experience for viewers using ad blockers

Wikia is not accessible if you've made further modifications. Remove the custom ad blocker rule(s) and the page will load as expected.