Ad blocker interference detected!
Wikia is a free-to-use site that makes money from advertising. We have a modified experience for viewers using ad blockers

Wikia is not accessible if you've made further modifications. Remove the custom ad blocker rule(s) and the page will load as expected.

General information
Edit
| | | |
| --- | --- | --- |
| " | Sniper Turrets can target units at long ranges making it a must-have for base defense. | " |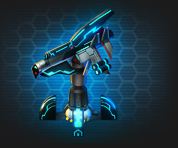 "
The Sniper Turret boasts superior firepower and automatically targets damaged units to finish them off fast!
"

—Edgeworld, Daily Update
They have a huge range, attack, and health, shoot half as swiftly as other turrets, and require Incendiary Cores to upgrade. Their range covers the whole base and most of the grounds, making Specter, Chimera, and Devastator alone useless—mostly, sometimes the game fails to make the troop check whether a turret is in range—to take out the Command Center until these are gone.
| Level | Attack | Health | Time | | | | Cores |
| --- | --- | --- | --- | --- | --- | --- | --- |
| 1 | 360 | 1,000 | 15m | 1,200 | 1,200 | 1,200 | |
| 2 | 545 | 1,100 | 40m | 3,200 | 3,200 | 3,200 | |
| 3 | 730 | 1,200 | 1h40m | 8,000 | 8,000 | 8,000 | |
| 4 | 915 | 1,300 | 4h | 20,000 | 20,000 | 20,000 | |
| 5 | 1,100 | 1,400 | 7h | 50,000 | 50,000 | 50,000 | |
| 6 | 1,285 | 1,500 | 8h | 50,000 | 50,000 | 50,000 | |
| 7 | 1,470 | 1,600 | 12h | 50,000 | 50,000 | 50,000 | |
| 8 | 1,655 | 2,250 | 15h | 50,000 | 50,000 | 50,000 | |
| 9 | 1,840 | 3,125 | 15h | 50,000 | 50,000 | 50,000 | |
| 10 | 2,025 | 4,375 | 1d | 50,000 | 50,000 | 50,000 | |
| 11 | 2,210 | 6,500 | 1d | 50,000 | 50,000 | 50,000 | |
| 12 | 2,500 | 8,750 | 1d | 50,000 | 50,000 | 50,000 | |
| 13 | 2,750 | 11,000 | 1d8h | 50,000 | 50,000 | 50,000 | |
| 14 | 3,000 | 14,000 | 1d8h | 50,000 | 50,000 | 50,000 | |
| 15 | 3,250 | 17,000 | 1d8h | 50,000 | 50,000 | 50,000 | |
| 16 | 3,500 | 20,000 | 2d12h | 70,000 | 70,000 | 70,000 | |
| 17 | 3,850 | 22,500 | 3d1h20m | 100,000 | 100,000 | 100,000 |  2 |
| 18 | 4,200 | 25,000 | 3d14h40m | 130,000 | 130,000 | 130,000 |  2 |
| 19 | 4,550 | 27,500 | 4d4h | 160,000 | 160,000 | 160,000 |  2 |
| 20 | 4,900 | 30,000 | 4d17h20m | 190,000 | 190,000 | 190,000 |  2 |
| 21 | 5,250 | 32,500 | 4d6h40m | 220,000 | 220,000 | 220,000 |  2 |
| 22 | 5,600 | 35,000 | 5d20m | 250,000 | 250,000 | 250,000 |  2 |
Promotions
Edit
Introducing Sniper Turrets!, 2012 Jun 13
Edit
"
Revolutionize your base defenses with our new Sniper Turret!

Sniper Turrets:

- Can hit any point on the base from any other point
- Pack a punch more potent than any other turret
- Features upgraded Health that helps it survive Bomba attacks

Begin building Sniper Turrets today if you have at least a Level 7 Command Center!

Also, don't forget to participate in our Sniper Turret Buildathon to win 500 Platinum and a Cerulean Core! Check your mail for details.

"

—KIRA, Mail
Sniper Turret Buildathon!, 2012 Jun 13
Edit
"
Every player that has at least 1 Sniper Turret in their[sic] main base by 11:59am PST, Friday, 6/15 will get entered to win 500 Platinum and a Cerulean Core!

Each Sniper Turret is a chance to win, so someone with 6 Turrets is 6 times as likely to win!

10 Lucky winners will be selected and awarded on June 15.

"

—KIRA, Mail
Turret Buildathon, 2012 Jul 28
Edit
"
With the new Level 13 Command Center, use your expanded base to build even more powerful turrets! From now until 12:00pm PDT on July 30th, build up your turret defenses for a chance to win Cerulean Racks!

All players who have at least the following number of turrets (base + Aurora 1) at event end will be entered to win a Cerulean Rack:

Incendiary Turrets - 21+
Sniper Turrets - 13+
Heavyweight Turrets - 13+
A total of 25 lucky winners from each turret type will be chosen. Additionally, 1 very lucky winner will be chosen from each turret type to win an Annihilator Crate, a 4,999 platinum item!
Prizes will be awarded by August 2nd, 2012.
Good luck, Commander!

"

—Edgeworld, Mail
Build Sniper Turrets Faster, 2013 May 31
Edit
"
For a limited time only, Sniper Turret build times have been reduced by 50% at all levels! Make sure to take advantage and finish these builds to greatly increase your base defenses!

Build times will return to normal on June 3rd, so take advantage of these lowered build times and increase your base defenses before its too late!

"

—Edgeworld, Mail
Build-A-Thon : Turrets, 2015 Aug 12 16:00 (1d23h)
Edit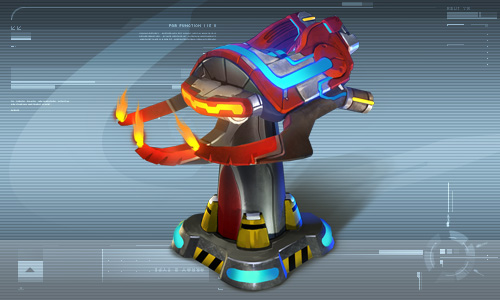 "
Greetings Commander,

Arm your bases and get ready for a Build-A-Thon!

Starting at 4:00pm on August 12th until 3:00pm on August 14th we have a special arms race you do not want to miss out on! In your Headquarter Base, for each turret you upgrade to LEVEL 11 you will win 1x Red Giant Crate! Prizes are limited to only 20 Upgraded Turrets. Prizes will be distributed by Friday, August 21st at 5:00pm PDT.

The following 9 Turrets will be considered for this Build-a-thon:

Gun Turret
X-1 Cannon
Concussion Turret
Tesla Tower
Incendiary Turret
Sniper Tower
Heavyweight Turret
Corrosive Turret
Anti-Aircraft Turret

At this time there will be no additional prizes for upgrading turrets to level 12 or beyond.

Remember, you'll need Incendiary Cores to help upgrade your Turrets so be sure to check out the store as we may have a few sales that you'll be interested in!

Time to get into action and upgrade those powerful turrets! Remember, the Turret Build-A-Thon ends at 3:00pm PDT on August 14th, so don't miss out!

Good Luck!
-The Edgeworld Team

"

—Edgeworld, Mail
Build-A-Thon : Turrets, 2015 Sep 22 16:00 (1d23h)
Edit
"
Greetings Commander,

Arm your bases and get ready for a Build-A-Thon!

Starting at 4:00pm on September 22nd until 3:00pm on September 24th we have a special arms race you do not want to miss out on! Win prizes by upgrading one of the 5 specific Turrets to LEVEL 15 on your Headquarter Base you will win 1x Tesseract Chest!. Turrets that are upgraded in Aurora-1, Caldera-2, or Eclipse-3 will not count toward this Build-A-Thon

Prizes are limited to only 20 Upgraded Turrets. Prizes will be distributed by Friday, October 2nd at 5:00pm PDT.

The following 5 Turrets will be considered for this Build-a-thon:

Concussion Turret
Incendiary Turret
Sniper Turret
Heavyweight Turret
Corrosive Turret

At this time there will be no additional prizes for upgrading turrets to level 16 or beyond.

Remember, you'll need Incendiary Cores to help upgrade your Turrets so be sure to check out the store as we may have a few sales that you'll be interested in!

Time to get into action and upgrade those powerful turrets! Remember, the Turret Build-A-Thon ends at 3:00pm PDT on September 24th, so don't miss out!

Good Luck!

-The Edgeworld Team

"

—Edgeworld, Mail