General information
Edit
| | | |
| --- | --- | --- |
| " | The Neutron Mine explodes when an attacking unit comes within range, triggering a deadly explosion that destroys the mine. | " |
| | | |
| --- | --- | --- |
| " | The Neutron Mine explodes when an attacking unit comes within range, triggering a deadly explosion. These mines pack a fearsome punch! | " |
| Health | Range | Rate | Splash | Stealth |
| --- | --- | --- | --- | --- |
| 10 | 60 | 10 | 150 | 100 |
| Level | Attack | Time | | | |
| --- | --- | --- | --- | --- | --- |
| 1 | 100 | 1m | 50 | 50 | 100 |
| 2 | 150 | 1m | 50 | 50 | 100 |
| 3 | 275 | 1m | 50 | 50 | 100 |
| 4 | 475 | 5m | 50 | 50 | 100 |
| 5 | 750 | 15m | 50 | 50 | 100 |
| 6 | 1,000 | 1h | 50 | 50 | 100 |
| 7 | 1,500 | 2h | 50 | 50 | 100 |
| 8 | 2,000 | 5h | 50 | 50 | 100 |
| 9 | 2,500 | 5h | 50 | 50 | 100 |
| 10 | 3,000 | 7h | 50 | 50 | 100 |
| 11 | 3,500 | 8h | 50 | 50 | 100 |
| 12 | 4,000 | 8h | 50 | 50 | 100 |
| 13 | 4,500 | 8h | 50 | 50 | 100 |
| 14 | 5,000 | 8h | 50 | 50 | 100 |
| 15 | 5,500 | 8h | 50 | 50 | 100 |
| 16 | 6,000 | 15h | 75 | 75 | 125 |
| 17 | 7,000 | 16h40m | 100 | 100 | 150 |
| 18 | 8,000 | 18h20m | 125 | 125 | 175 |
| 19 | 9,000 | 20h | 150 | 150 | 200 |
| 20 | 10,000 | 21h40m | 175 | 175 | 225 |
| 21 | 11,000 | 23h20m | 200 | 200 | 250 |
| 22 | 12,000 | 1d1h | 225 | 225 | 275 |
The table shows the number of Mines that can be built, per Factory Level.
| Factory Level | # Mines |
| --- | --- |
| 9 | 7 |
| 10 | 10 |
| 11 | 15 |
| 12 | 20 |
| 13 | 25 |
| 14 | 30 |
| 15 | 35 |
| 16 | 35 |
| 17 | 40 |
| 18 | 45 |
| 19 | 50 |
| 20 | 55 |
| 21 | 60 |
| 22 | 65 |
Neutron Mines do not require Incendiary Cores to construct levels 10 and above building upgrades. They require a Factory of the same level to upgrade.
Promotions
Edit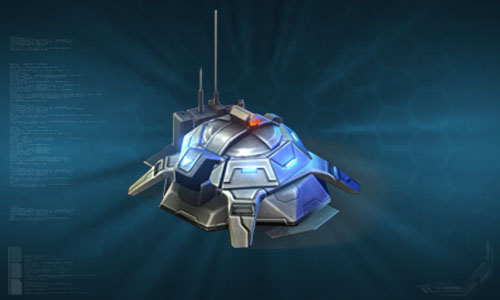 Neutron Mine Buffs!, 2012 Oct 29
Edit
"
Neutron Mines have been rebalanced, receiving buffs to their overall effectiveness!

No longer will your mine detonate on impact, and has become a permanent structure and part of your base defense! The attack power of these Mines has also been increased with each upgrade level, granting you even more bang for your buck above any other single turret in the game!

The requirements for building Neutron Mines will remain the same, so make sure to check them out if you have a Level 9 or higher factory...and if you don't, what are you waiting for? Build and upgrade your mines today before your enemies take advantage!

"

—Edgeworld, Mail
Place Mines around your base and they will be invisible to your enemies, but when attacking troops approach, they will explode for massive damage! When these first came out, they were only good for one use, and any that have exploded must be rebuilt, but the build times were shorter than now. However, Mines triggered during Defense Simulations needed not be rebuilt.
The number of Mines that can be built on your base at any time is determined by the level of your Factory. To build the first Mine, you must have a Factory at Level 9. Even though a Mine is a Defensive Building, when you are attacked by the Defense Simulator or PvP, the Battle ends after all your Buildings and Guns are destroyed even if there are unexploded Mines remaining.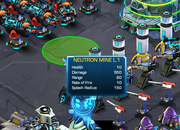 Enemy Neutron Mines can be noticed when you hover over them.They themselves cannot actually be seen, but the range of the mine can.
Ad blocker interference detected!
Wikia is a free-to-use site that makes money from advertising. We have a modified experience for viewers using ad blockers

Wikia is not accessible if you've made further modifications. Remove the custom ad blocker rule(s) and the page will load as expected.