General information
Edit
Mail is a feature in the game which allows you to send private letters to others ingame. There is no Platinum cost in this feature nor XP. You can also send mail to everyone in your alliance by clicking the message alliance button via the my alliance tab. Kabam sometimes send mail out to all accounts in Edgeworld and they are in red or blue.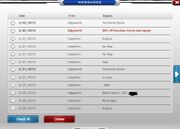 Ad blocker interference detected!
Wikia is a free-to-use site that makes money from advertising. We have a modified experience for viewers using ad blockers

Wikia is not accessible if you've made further modifications. Remove the custom ad blocker rule(s) and the page will load as expected.