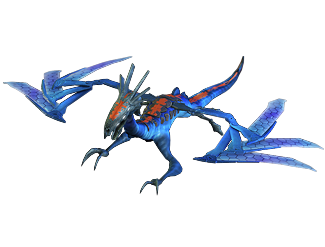 General information
Edit
| | | |
| --- | --- | --- |
| " | Flying synthetic beasts that unleash an unrelenting torrent of fireballs upon their prey. | " |
The Incineraptor became available to Research on 2013 March 2, but there were no Synthetic Control Cores for sale to do it; that required the Player to spend

 515 just to unlock Incineraptors in the Tech Lab at Level 1 or win the Cores by Force Tournaments. In July the price was decimated in a Platinum promotion, and in August it went for sale at

 40. Now a Troop Crate or Core can be won in a Salvage Box, Platinum Prize Box, Gold Prize Box, Zoot's Loot, and others. 
Taking the same size in the Warp Gate as the Decimator these Troops provide, in comparison:
Cons:
Much smaller Range
Slower Rate
Over half as much Splash
Susceptible to fire and concussion effect.
Pros:
Swifter Speed after Level 4
Over double the Damage
Greater Health
Shorter Research Times (until L10)
Extreme Endurance, i.e. almost indestructible
Abundant, most respectable players have hundreds of these
Similarities:
Defense Research Times and Protection are almost the same.
Both Decimators and Incineraptors net 90 levels when used to upgrade map bases.
Range
Size
Training
Time
40
15
6h
Level
Damage
Health
Rate
Speed
Splash
Training
Research
Defense
Force
Cores
Cores
Time
Damage
Cores
Time
1
8,000
280,000
20
75
40
200,000
100
100
2h
−1,600
100
100
5h
157
2
9,000
285,000
20
75
40
200,000
1,000
1,000
5h
−2,000
1,000
1,000
10h
628
3
10,000
290,000
20
75
40
200,000
10,000
10,000
10h
−2,450
10,000
10,000
16h40m
1,413
4
11,000
295,000
20
80
45
250,000
10,000
10,000
1d9h20m
−3,000
10,000
10,000
1d9h20m
2,512
5
12,500
300,000
25
80
45
250,000
10,000
10,000
1d9h20m
−3,750
10,000
10,000
3d11h20m
3,925
6
14,000
305,000
25
80
45
250,000
100,000
100,000
2d12h
−4,500
100,000
100,000
3d11h20m
5,652
7
15,700
310,000
25
80
50
300,000
1,000,000
1,000,000
2d12h
−5,500
1,000,000
1,000,000
3d11h20m
7,693
8
17,400
315,000
25
85
50
300,000
2,500,000
2,500,000
2d12h
−6,500
2,500,000
2,500,000
3d11h20m
10,048
9
19,200
320,000
25
85
55
300,000
5,000,000
5,000,000
2d12h
−7,680
5,000,000
5,000,000
3d11h20m
12,717
10
21,000
355,000
25
85
55
350,000
7,500,000
7,500,000
3d11h20m
−8,925
7,500,000
7,500,000
3d11h20m
15,700
11
22,800
390,000
25
85
60
350,000
10,000,000
10,000,000
3d11h20m
−10,260
10,000,000
10,000,000
3d11h20m
18,997
12
24,700
430,000
30
85
60
350,000
10,000,000
10,000,000
3d11h20m
−11,700
10,000,000
10,000,000
3d11h20m
22,608
13
26,600
470,000
30
90
65
400,000
10,000,000
10,000,000
3d11h20m
−13,300
10,000,000
10,000,000
3d11h20m
26,533
14
28,500
510,000
30
90
65
400,000
10,000,000
10,000,000
3d11h20m
−14,250
10,000,000
10,000,000
3d11h20m
30,772
15
30,500
560,000
30
90
75
400,000
10,000,000
10,000,000
3d11h20m
−15,250
10,000,000
10,000,000
3d11h20m
35,325
16
32,500
610,000
30
90
75
450,000
12,000,000
12,000,000
3d11h20m
−16,250
10,000,000
10,000,000
3d11h20m
40,192
17
34,500
670,000
30
90
75
450,000
15,000,000
15,000,000
4d4h
−17,250
12,000,000
12,000,000
4d4h
45,373
18
36,500
730,000
30
90
75
450,000
15,000,000
15,000,000
4d20h40m
−18,000
12,000,000
12,000,000
4d20h40m
50,868
19
38,500
790,000
30
90
75
450,000
 2
15,000,000
15,000,000
 2
5d15h20m
−18,750
12,000,000
12,000,000
 2
5d15h20m
56,677
20
40,500
850,000
30
90
75
450,000
 2
15,000,000
15,000,000
 2
6d6h
−19,500
12,000,000
12,000,000
 2
6d6h
62,800
21
42,500
910,000
30
90
75
450,000
 2
15,000,000
15,000,000
 2
6d22h40m
−20,250
12,000,000
12,000,000
 2
6d22h40m
69,237
22
44,500
970,000
30
90
75
450,000
 2
15,000,000
15,000,000
 2
7d15h20m
−21,000
12,000,000
12,000,000
 2
7d15h20m
75,988
Promotions
Edit
Incineraptor/2013#Promotions, Incineraptor/2014#Promotions, Incineraptor/2015#Promotions, Incineraptor/2015 2#Promotions, Incineraptor/2016#Promotions