General information
Edit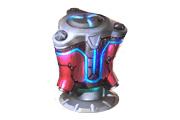 | | | |
| --- | --- | --- |
| " | Scavenged hunks of Cerulean minerals, containing materials used for building and upgrading your turrets! | " |
Incendiary Core is required to build and upgrade Incendiary Turrets, Sniper Turrets, Heavyweight Turrets, Anti-Tank Turret, Corrosive Turrets, and upgrade other defensive turrets after Level 9. This can be won by Zoot's Loot, Defense Simulator, Salvage Boxes, Zoot's Jackpot and Incendiary Boxes; or awarded for the Level-7 Command Center Mission and Incendiary Turret build Mission, or finishing in the appropriate position in a Sector's Player Tournament. Buying a Incendiary Rack gives you 5 Incendiary Cores for the price of 4.
The Incendiary Core can also be used to craft the Cerulean Fireproof Shield part in the Engineering Lab.
Promotions
Edit
Incendiary Core/2013#Promotions, Incendiary Core/2014#Promotions, Incendiary Core/2015#Promotions, Incendiary Core/2016#Promotions
Incendiary Core/2012#Sales, Incendiary Core/2013#Sales, Incendiary Core/2014#Sales, Incendiary Core/2015#Sales
Ad blocker interference detected!
Wikia is a free-to-use site that makes money from advertising. We have a modified experience for viewers using ad blockers

Wikia is not accessible if you've made further modifications. Remove the custom ad blocker rule(s) and the page will load as expected.