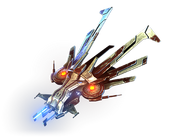 General information
Edit
Fire-breathing monstrosities that reduce even the strongest bases to cinders.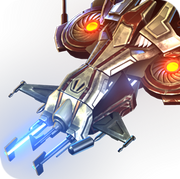 Decimator's [sic] have been released!
Edit
"
Commander, the time has come to bring Ruin to your enemies. Rolling out of Factories across Cerulea IV is the new Decimator! This fire-breathing monstrosity is a fusion of Cerulean Artifacts and Union Technology. This troop rips through barriers, melts metal, and can reduce even the strongest base to cinders! Rip your targets to pieces, with the Decimator! Train yours today!
"

—Edgeworld, Mail, 2012 Oct 15
You can only research Decimators with a Level 8 (or higher) Tech Lab.
Researching and training both requires a Decimator Core, excluding L1 research (As you don't need a Core to research) and L10 and above researches, which instead require a Scarbide Ingot.
Speed
Size
Training
Time
Cores
75
15
6h
Level
Damage
Health
Range
Rate
Splash
Training
Research
Defense
Cores
Time
Damage
Cores
Time
1
3,000
100,000
100
30
70
100,000
100
100
5h
−600
100
100
5h
2
3,500
120,000
100
30
70
100,000
1,000
1,000
10h
−788
1,000
1,000
10h
3
4,000
140,000
100
30
70
100,000
10,000
10,000
16h40m
−1,000
10,000
10,000
16h40m
4
4,500
160,000
100
30
80
100,000
10,000
10,000
1d9h20m
−1,238
10,000
10,000
1d9h20m
5
5,000
180,000
100
30
80
100,000
10,000
10,000
3d11h20m
−1,500
10,000
10,000
3d11h20m
6
5,500
200,000
110
30
80
100,000
100,000
100,000
3d11h20m
−1,788
100,000
100,000
3d11h20m
7
6,000
220,000
110
30
90
100,000
1,000,000
1,000,000
3d11h20m
−2,100
1,000,000
1,000,000
3d11h20m
8
6,500
240,000
110
30
90
100,000
2,500,000
2,500,000
3d11h20m
−2,438
2,500,000
2,500,000
3d11h20m
9
7,000
260,000
110
30
90
100,000
5,000,000
5,000,000
3d11h20m
−2,800
5,000,000
5,000,000
3d11h20m
10
8,000
280,000
110
35
100
100,000
7,500,000
7,500,000
3d11h20m
−3,400
7,500,000
7,500,000
3d11h20m
11
9,000
310,000
125
35
100
100,000
10,000,000
10,000,000
3d11h20m
−4,050
10,000,000
10,000,000
3d11h20m
12
10,000
340,000
140
35
125
100,000
10,000,000
10,000,000
3d11h20m
−4,750
10,000,000
10,000,000
3d11h20m
13
11,000
370,000
155
40
125
100,000
10,000,000
10,000,000
3d11h20m
−5,500
10,000,000
10,000,000
3d11h20m
14
12,500
400,000
170
40
150
100,000
10,000,000
10,000,000
3d11h20m
−6,250
10,000,000
10,000,000
3d11h20m
15
14,000
430,000
185
40
150
100,000
10,000,000
10,000,000
3d11h20m
−7,000
10,000,000
10,000,000
3d11h20m
16
15,500
460,000
200
40
150
120,000
12,000,000
12,000,000
3d11h20m
−7,750
10,000,000
10,000,000
3d11h20m
17
17,000
500,000
215
40
160
150,000
15,000,000
15,000,000
4d4h
−8,500
12,000,000
12,000,000
4d4h
18
18,500
540,000
230
40
170
180,000
15,000,000
15,000,000
4d20h40m
-8,800
12,000,000
12,000,000
4d20h40m
Promotions
Edit
Decimator Blowout - Limited Time!, 2013 Jul 22–23 23:59; Aug 8–9 12:00; Aug 31 10:00 (1d2h); Sep 10 15:00 (1d18h); Jun 11; Jul 15 15:00 (1d2h); 2014 Sep 8 15:00 (1d)
Edit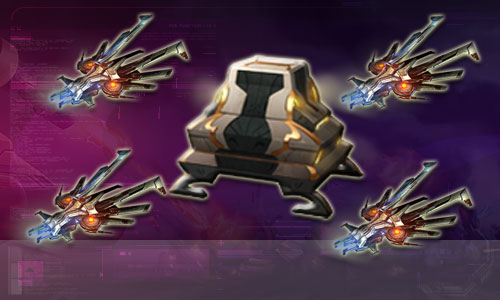 "
For a Limited Time only, guarantee yourself Decimators through our new Decimator Mystery Box! Each box will net you at least 1 Decimator, but bigger payouts are available leading all the way up to a possible 1,000! Purchase the Decimator Mystery Box for your chance to never have to train Decimators again!

Visit the featured tab of the shop to get yours today!

"

—Edgeworld, Mail
Mystery Box Mania!!!, 2014 Jan 10 10:00 (1d)
Edit
"
All day today we will be featuring Deep Discounts on Mystery Boxes!

Watch out for Sales appearing on the Daily Update and in the "Featured" tab of the Shop all day long!

Now is your chance to SAVE BIG on Edgeworld's BEST Mystery Boxes! Pick one up now to unlock some INTERSTELLAR prizes!

"

—Edgeworld, Daily Update
Use the Force Box
2014 Jan 20 15:00 (1d)
Edit
Use the Force!, 2014 Feb 12 15:00 (1d); Feb 23 18:00 (23h); Mar 6
Edit
"
Strike fear in the hearts of your opponent and show them who rules Cerulea!

The Use the Force Box is now available in the Store for a limited time!

For only 10 Platinum, stock up on some of the most destructive troops in all of Cerulea!

--The Edgeworld Team

"

—Edgeworld, Mail
Heart Shaped Box!, 2014 Feb 14 1:00 (23h59m)
Edit
"
Valentine's Day is here and Zoot has been bitten by the Love Bug!

Zoot's got a soft side, and the Heart Shaped Box is proof! Priced at only 1 Platinum, you could win some of Cerulea's most fabled and coveted prizes. Hacker's Crates, 5.0 Tokens, Cerulean Construction Crates and the Level 18 Vermillion Network Sabotage are just a few of the prizes Zoot has packed into his Heart Shaped Box! Check the Item Description for a full list of loot!

Zoot's generosity won't last long, so take advantage of this deal while you can!

Good Luck!

--The Edgeworld Team

"

—Edgeworld, Mail
Mystery Box Meltdown, 2014 Feb 20 21:00 (1d12h)
Edit
"
Greetings Commander,

Zoot has given us the task of emptying his Mystery Boxes so that he can create bigger and better ones!

All day long, we'll be featuring different Mystery Boxes on SALE! Check the Featured Tab for today's deals on Decimator Mystery Boxes, Bomba Boxes, Onyx Core Mystery Boxes and the Token 4.0 Mystery Box! Win up to 1,000,000 Bombas inside the Bomba Box!

Some of these deals may never return, so be sure to get in on the action NOW!

--The Edgeworld Team

"

—Edgeworld, Mail
Heart Shaped Box SALE!, 2014 Feb 22 12:00 (1d10h); Mar 7 0:00 (1d10h)
Edit
"
The Heart Shaped Box is back!

Zoot's got a soft side, and the Heart Shaped Box is proof! Priced at only 1 Platinum, you could win some of Cerulea's most fabled and coveted prizes! Hacker's Crates, 5.0 Tokens, Cerulean Construction Crates and the Level 18 Vermillion Network Sabotage are just a few of the prizes Zoot has packed into his Heart Shaped Box! Check the item description for a full list of prizes!

"

—Edgeworld, Mail
Mystery Box Meltdown, 2014 Mar 2 0:00 (1d10h)
Edit
"
Greetings Commander,

Zoot has given us the task of emptying his Mystery Boxes so that he can create bigger and better ones!

All day long, we'll be featuring different Mystery Boxes on SALE! Check the Featured Tab for today's deals on Heart Shaped Boxes, Top Token Crates, Debris Mystery Boxes AND Millennium Mystery Modules!

Some of these deals may never return, so be sure to get in on the action NOW!

--The Edgeworld Team

"

—Edgeworld, Mail
Call in the Bomb Squad!, 2014 Mar 7 14:00 (2d9h)
Edit
"
The Bomb Squad Mystery Box is now available! This is your first opportunity to win the Ruby Fireproof Shield!

When fully upgraded, the Ruby Fireproof Shield will add 582,000 Health andtake 70% less damage from Bombas! Also attack up to 24 targets at the same time!

Open the Bomb Squad Box for a chance to win the Level 1 or Level 10 Ruby Fireproof Shield! Other prizes include Hacker's Crates, Market Crash Mystery Boxes, Bombas, Decimators, Incineraptors, Vermillion Fireproof Shields, Fireproof Tokens, Hacker's Patches, Accelerators or the Bomba Box!

Priced at only 20 Platinum, this box won't last long!

--The Edgeworld Team

"

—Edgeworld, Mail
Mystery Box Meltdown, 2014 Mar 12 10:00 (1d)
Edit
"
Greetings Commander,

Zoot has given us the task of emptying his Mystery Boxes so that he can create bigger and better ones!

All day long, we'll be featuring different Mystery Boxes on SALE! Check the Featured Tab for today's deals on Liquid Scope Mystery Boxes, Top Token Crates, Bomb Squad Mystery Boxes and Lethal Force Mystery Boxes!

Some of these deals may never return, so be sure to get in on the action NOW!

--The Edgeworld Team

"

—Edgeworld, Mail
The G-Force Mystery Box!, 2014 Mar 15 15:00 (1d); Mar 30 9:00 (2d6h); Apr 10 15:00 (1d); Apr 21 13:00 (2d); May 1 16:00 (2d18h); Jun 26 15:00 (21h); Jul 10 8:00 (1d7h); Jul 17 16:00 (1d); Jul 23 16:00 (23h); Oct 18 15:00 (1d)
Edit
"
Open the G-Force Mystery Box to win 1,000 Troops! This Mystery Box can contain bundles of:

1,000 Incineraptors
1,000 Battlecruisers
1,000 Decimators
Other Bundles of 1,000 Troops include: Sentinels, Disruptors, Shrikes, Titans, Specters, Pyros, Hornets, Bombas and Rhinos!

Purchase the G-Force Box today and instantly become a force to be reckoned with!

"

—Edgeworld, Mail
Mystery Box Meltdown, 2014 Mar 18 10:00 (1d)
Edit
"
Greetings Commander,Zoot has given us the task of emptying his Mystery Boxes so that he can create bigger and better ones!

All day long, we'll be featuring different Mystery Boxes on SALE! Check the Featured Tab for today's deals on Hacker's Patch Mystery Boxes, Builder's Boxes, Bomb Squad Mystery Boxes and Ruby Armor Mystery Boxes!

Some of these deals may never return, so be sure to get in on the action NOW!

--The Edgeworld Team

"

—Edgeworld, Mail
Mystery Box Meltdown, 2014 Apr 2 10:00 (1d)
Edit
"
Greetings Commander,

Zoot has given us the task of emptying his Mystery Boxes so that he can create bigger and better ones!

All day long, we'll be featuring different Mystery Boxes on SALE! Check the Featured Tab for today's deals on Token 4.0 Mystery Boxes, Decimator Mystery Boxes, Top Token Crates AND Black Market Patch Mystery Boxes!

Some of these deals may never return, so be sure to get in on the action NOW!

--The Edgeworld Team

"

—Edgeworld, Mail
Mystery Box Meltdown, 2014 Apr 4 10:00 (1d)
Edit
"
Greetings Commander,

All day long, we'll be featuring different Mystery Boxes on SALE! Check the Featured Tab for today's deals on Enhanced Token Crates, Ruby Core Mystery Boxes, Bomb Squad Mystery Boxes AND Use the Force Mystery Boxes!

Some of these deals may never return, so be sure to get in on the action NOW!

--The Edgeworld Team

"

—Edgeworld, Mail
Use the Force!, 2013 Apr 12 12:00 (1d); Apr 26 15:00 (19h); May 18; May 24 16:00 (18h); Jun 8 17:00 (1d1h); Jun 20 (19 17:00) (2d16h); Jul 2 13:00 (1d4h); Jul 29 17:00 (23h); Aug 13 15:00 (1d); Sep 16; Oct 20 12:00 (1d)
Edit
"
Use the Force... Box! Win your Wars in the Stars with this out-of-this-world Box!

The Use the Force Box contains 10, 20 or 80 of the following Premium Troops:

Pulse Tanks
Berzerkers[sic]
Decimators
Battlecruisers
Incineraptors!

This box will only be available for a limited time, so take advantage of this great deal while you can!

"

—Edgeworld, Mail
Mystery Box Meltdown, 2014 Apr 15 10:00 (1d)
Edit
"
Greetings Commander,

All day long, we'll be featuring different Mystery Boxes on SALE! Check the Featured Tab for today's deals on Top Token Crates, Decimator Mystery Boxes, Boxes of Fire AND Target Practice Mystery Boxes!

Some of these deals may never return, so be sure to get in on the action NOW!

"

—Edgeworld, Mail
The Destruction Mystery Box is here!, 2014 Apr 19 0:00 (2d10h)
Edit
"
Greetings Commander,

The Destruction Mystery Box is here! This jampacked box could contain the Ruby Blast Shield! When fully upgraded, the RBS will add 582,000 Health and 51,000 damage to your Turrets and decrease the damage your Turrets take from Decimators by 70%!

Other possible loot includes: Incineraptor Swarms, Decimators, Tri-Force Crates, Quadforce Crates, Space Dragon Crate, G-Force Mystery Boxes, Hacker's Patches, Rebel's Ransacks, Use The Force Boxes, Generals Spp 5000, 8-Hour Acceleratosr[sic], 30% Training Accelerators, Zoot Tokens, Incendiary Cores, Decimator Mystery Boxes, Bomba Boxes, Blast Shield Token and Blast Shield Token 2.0.

Don't miss this opportunity to pick up The Ruby Blast Shield and other Powerful Items and Troops!

--The Edgeworld Team

"

—Edgeworld, Mail
Mystery Box Meltdown, 2014 Apr 22 10:00 (1d3h)
Edit
The Destruction and Decimator Mystery Boxes, 2014 Apr 27 12:00 (1d1h)
Edit
"
Greetings Commander,

The Destruction Mystery Box contains The Ruby Blast Shield when fully upgraded will add 582,000 Health to your Turrets, 51,000 damage and decrease the damage your Turrets take from Decimators by 70%!

Also win a chance at Incineraptor Swarms, Decimators, Tri-Force Crates, Quadforce Crates, Space Dragon Crate, G-Force Mystery Box, Hacker's Patch, Rebel's Ransack, Use The Force, Generals Spp 5000, 8-Hour Accelerator, 30% Training Accelerator, Lottery Token, Incendiary Core, Decimator Mystery Box, Bomba Box, Blast Shield Token and Blast Shield Token 2.0.

The Decimator Box can contain up to 1,000 fire-breathing monstrosities... Decimators!

Don't miss this opportunity to pick up both of these killer boxes at an amazing price!

--The Edgeworld Team

"

—Edgeworld, Mail
Mystery Box Meltdown, 2014 Apr 28 10:00 (1d)
Edit
BLAST: Mystery Box Meltdown, 2014 May 8 17:00 (1d)
Edit
"
Greetings Commander,

All day long, we'll be featuring different Mystery Boxes on SALE! Check the Featured Tab for today's deals on Decimator Mystery Box, Destruction Mystery Box, Maximum Force Mystery Box and Target Practice.

Some of these deals may never return, so be sure to get in on the action NOW!

Also, The Destruction MB has been UPDATED with a chance to win the BLAST BATTERY!

--The Edgeworld Team

"

—Edgeworld, Mail
Mystery Box Meltdown, 2014 May 15 12:00 (2d22h)
Edit
"
Greetings Commander,

All day long, we'll be featuring different Mystery Boxes on SALE! Check the Featured Tab for today's deals on Bomb Squad Mystery Box, Lethal Force Mystery Box, Heart Shaped Mystery Box and the Top Token Crate.

Some of these deals may never return, so be sure to get in on the action NOW!

--The Edgeworld Team

"

—Edgeworld, Mail
Decimation Crate and Decimation MB Sale!, 2014 May 18 13:00 (1d)
Edit
"
Greetings Commander,

For a limited time, pick the Decimation Crate for 750 Plat and the Decimation MB for 10 Plat.

The Decimation Crate contains:

3x Decimator Carriers
8x Incendiary Core
5x Vermillion Core
5x Cerulean Core
20x Vulcan Box
5x 14 Day Accelerator
1x Elite Weapons Box

The Decimation Mystery Box can contain up to 1,000 Decimators!

Good Luck!

-The Edgeworld Team

"

—Edgeworld, Mail
Heart Shaped Box!, 2014 May 22 14:00 (22h)
Edit
"
The Heart Shaped Box is back!

Zoot's got a soft side, and the Heart Shaped Box is proof! Priced at only 1 Platinum, you could win some of Cerulea's most fabled and coveted prizes! Hacker's Crates, 5.0 Tokens, Cerulean Construction Crates and the Level 18 Vermillion Network Sabotage are just a few of the prizes Zoot has packed into his Heart Shaped Box! Check the item description for a full list of prizes!

"

—Edgeworld, Mail
Weekend Sales!, 2014 May 23 9:00 (4d)
Edit
"
Greetings Commander,

All weekend long, we'll be featuring different items on SALE! Check the store now deals on Cerulean Construction Crate, Afterburner Mystery Box, Hacker's Crate and the Destruction Mystery Box. Stock up today and dominate your opponents!

--The Edgeworld Team

"

—Edgeworld, Mail
Mystery Box Meltdown, 2014 May 25 12:00 (1d)
Edit
"
Greetings Commander,

All day long, we'll be featuring different Mystery Boxes on SALE! Check the Featured Tab for today's deals on Debris and Bomb Squad Mystery Boxes AND Halon and E.T. Crates!

Some of these deals may never return, so be sure to get in on the action NOW!

--The Edgeworld Team

"

—Edgeworld, Mail
Heart Shaped Box!, 2014 Jun 2 12:00 (1d5h)
Edit
"
The Heart Shaped Box is back!

Zoot's got a soft side, and the Heart Shaped Box is proof! Priced at only 1 Platinum, you could win some of Cerulea's most fabled and coveted prizes! Hacker's Crates, 5.0 Tokens, Cerulean Construction Crates and the Level 18 Vermillion Network Sabotage are just a few of the prizes Zoot has packed into his Heart Shaped Box! Check the item description for a full list of prizes!

BONUS: When you buy 5 Heart Shaped Boxes you will get 1 Halon Crate FREE!

From Zoot with Love!

"

—Edgeworld, Mail
Destruction Mystery Box SALE!, 2014 Jun 4 6:00 (1d4h); Jun 11 12:00 (1d); Jun 26 12:00 (1d); Jul 3 16:00 (1d1h); Oct 25 12:00 (1d)
Edit
"
Greetings Commander,

The Destruction Mystery Box contains The Ruby Blast Shield when fully upgraded will add 582,000 Health to your Turrets, 51,000 damage and decrease the damage your Turrets take from Decimators by 70%!

Also win a chance at Incineraptor Swarms, Decimators, Tri-Force Crates, Quadforce Crates, Space Dragon Crate, G-Force Mystery Box, Hacker's Patch, Rebel's Ransack, Use The Force, Generals Spp 5000, 8-Hour Accelerator, 30% Training Accelerator, Lottery Token, Incendiary Core, Decimator Mystery Box, Bomba Box, Blast Shield Token and Blast Shield Token 2.0.

-The Edgeworld Team

"

—Edgeworld, Mail
Weekend Sales!, 2014 Jun 6 16:00 (2d17h, defunct)
Edit
"
Greetings Commander,

All weekend long, we'll be featuring different items on SALE! Check the store now deals on the Hard Core Mystery Box, Incineration Crate, Cerulean Construction Crate and the Bomb Squad Mystery Box to annihilate the competition.

--The Edgeworld Team

"

—Edgeworld, Mail
Heart Shaped Box!, 2014 Jun 12 11:00 (1d5h)
Edit
"
The Heart Shaped Box is back!

Zoot's got a soft side, and the Heart Shaped Box is proof! Priced at only 1 Platinum, you could win some of Cerulea's most fabled and coveted prizes! Hacker's Crates, 5.0 Tokens, Cerulean Construction Crates and the Level 18 Vermillion Network Sabotage are just a few of the prizes Zoot has packed into his Heart Shaped Box! Check the item description for a full list of prizes!

BONUS! Buy 5 Heart Shaped Boxes between now and June 13th at 4:00pm PDT and you will get 1 Halon Crate FREE!

There is no limit to this offer. Prizes will be delivered by 12:00 PDT on June 14th

From Zoot with Love!

"

—Edgeworld, Mail
Weekend Sales, 2014 Jun 20 16:00 (2d20h)
Edit
"
Greetings Commander,

All weekend long, we'll be featuring different items on SALE! Check the store now deals on the General's Order MB, Saboteur's Kit, Bomba Box and the Decimator MB to annihilatethe competition.

--The Edgeworld Team

"

—Edgeworld, Mail
Heart Shaped Box!, 2014 Jun 21 0:00 (12h59m); Jun 22 (21 0:00) (1d23h59m)
Edit
"
The Heart Shaped Box is back!

Zoot's got a soft side, and the Heart Shaped Box is proof! Priced at only 1 Platinum, you could win some of Cerulea's most fabled and coveted prizes! Hacker's Crates, 5.0 Tokens, Cerulean Construction Crates and the Level 18 Vermillion Network Sabotage are just a few of the prizes Zoot has packed into his Heart Shaped Box! Check the item description for a full list of prizes!

BONUS! Buy 5 Heart Shaped Boxes between now and June 22nd at 11:59pm PDT and you will get 1 Halon Crate FREE!

There is no limit to this offer. Prizes will be delivered by 12:00 PDT on June 23rd

From Zoot with Love!

"

—Edgeworld, Mail
Heart Shaped Box!, 2014 Jul 1 9:00 (1d3h)
Edit
"
The Heart Shaped Box is back!

Zoot's got a soft side, and the
Heart Shaped Box is proof! Priced at only 1 Platinum, you could win some of Cerulea's most fabled and coveted prizes! Hacker's Crates, 5.0 Tokens, Cerulean Construction Crates and the Level 18 Vermillion Network Sabotage are just a few of the prizes Zoot has packed into his Heart Shaped Box! Check the item description for a full list of prizes!

BONUS!
Buy 5 Heart Shaped Boxes between now and July 2nd at 11:59pm PDT and you will get 1 Halon Crate FREE!
Buy 10 Heart Shaped Boxes between now and July 2nd at 11:59pm PDT and you will get 1 Destruction MB FREE!

There is NO LIMIT to this offer. Prizes will be delivered by 12:00 PDT on July 3rd.

From Zoot with Love!

"

—Edgeworld, Mail
Weekend Sales, 2014 Jul 11 16:00 (18h)
Edit
"
Greetings Commander,

All weekend long, we'll be featuring different items on SALE! Check the store now deals on the Decimator Mystery Box, Sp Mystery Box, Token 4.0 MB and the Black Market Patch MB.Stock up today and dominate your opponents!

--The Edgeworld Team

"

—Edgeworld, Mail
Destruction Mystery Box SALE!, 2014 Jul 12 (13 0:00) (23h59m)
Edit
"
Greetings Commander,

The Destruction Mystery Box contains The Ruby Blast Shield which when fully upgraded will add 582,000 Health to your Turrets, 51,000 damage and decrease the damage your Turrets take from Decimators by 70%!

This Mystery Box also gives you a chance at Incineraptor Swarms, Decimators, Tri-Force Crates, Quadforce Crates, Space Dragon Crate, G-Force Mystery Box, Hacker's Patch, Rebel's Ransack, Use The Force, Generals Spp 5000, 8-Hour Accelerator, 30% Training Accelerator, Lottery Token, Incendiary Core, Decimator Mystery Box, Bomba Box, Blast Shield Token and Blast Shield Token 2.0.

BONUS! Buy 2 Destruction Mystery Boxes between now and July 13th at 11:59pm PDT and you will WIN a 1 Destruction Mystery Box FREE!

There is NO LIMIT to this offer. Prizes will be delivered by 12:00pm PDT on July 14th

-The Edgeworld Team

"

—Edgeworld, Mail
Heart Shaped Box!, 2014 Jul 18 0:00 (23h59m)
Edit
"
The Heart Shaped Box is back!

Zoot's got a soft side, and the Heart Shaped Box is proof! Priced at only 1 Platinum, you could win some of Cerulea's most fabled and coveted prizes! Hacker's Crates, 5.0 Tokens, Cerulean Construction Crates and the Level 18 Vermillion Network Sabotage are just a few of the prizes Zoot has packed into his Heart Shaped Box! Check the item description for a full list of prizes!

BONUS! Buy 10 Heart Shaped Boxes between now and July 18th at 11:59pm PDT and you will get 1 Destruction MB FREE!
Buy 50 Heart Shaped Boxes between now and July 18th at 11:59pm PDT and you will get 1 Tri-Force Crate FREE!

There is NO LIMIT to this offer. Prizes will be delivered by 12:00 PDT on July 19th.From Zoot with Love!

"

—Edgeworld, Mail
Destruction Mystery Box SALE!, 2014 Jul 22 8:00 (1d7h)
Edit
"
Greetings Commander,

The Destruction Mystery Box contains The Ruby Blast Shield which when fully upgraded will add 582,000 Health to your Turrets, 51,000 damage and decrease the damage your Turrets take from Decimators by 70%!

This Mystery Box also gives you a chance at Incineraptor Swarms, Decimators, Tri-Force Crates, Quadforce Crates, Space Dragon Crate, G-Force Mystery Box, Hacker's Patch, Rebel's Ransack, Use The Force, Generals Spp 5000, 8-Hour Accelerator, 30% Training Accelerator, Lottery Token, Incendiary Core, Decimator Mystery Box, Bomba Box, Blast Shield Token and Blast Shield Token 2.0.

BONUS! Buy 2 Destruction Mystery Boxes between now and July 23rd at 3:00pm PDT and you will WIN a 1 Destruction Mystery Box FREE!

There is NO LIMIT to this offer. Prizes will be delivered by 12:00pm PDT on July 24th.

-The Edgeworld Team

"

—Edgeworld, Mail
Destruction Mystery Box SALE!, 2014 Jul 31 8:00 (30d6h)
Edit
"
Greetings Commander,

The Destruction Mystery Box contains The Ruby Blast Shield which when fully upgraded will add 582,000 Health to your Turrets, 51,000 damage and decrease the damage your Turrets take from Decimators by 70%!

This Mystery Box also gives you a chance at Incineraptor Swarms, Decimators, Tri-Force Crates, Quadforce Crates, Space Dragon Crate, G-Force Mystery Box, Hacker's Patch, Rebel's Ransack, Use The Force, Generals Spp 5000, 8-Hour Accelerator, 30% Training Accelerator, Lottery Token, Incendiary Core, Decimator Mystery Box, Bomba Box, Blast Shield Token and Blast Shield Token 2.0.

BONUS! Buy 2 Destruction Mystery Boxes between now and August 1st at 3:00pm PDT and you will WIN a 1 Destruction Mystery Box FREE!

There is NO LIMIT to this offer. Prizes will be delivered by 12:00pm PDT on August 2nd.

-The Edgeworld Team

"

—Edgeworld, Mail
Call in the Bomb Squad!, 2014 Jul 31 16:00 (1d); Sep 15 (16 0:00) (1d10h)
Edit
"
The Bomb Squad Mystery Box is now available! This is your first opportunity to win the Ruby Fireproof Shield!

When fully upgraded, the Ruby Fireproof Shield will add 582,000 Health andtake 70% less damage from Bombas! Also attack up to 24 targets at the same time!

Open the Bomb Squad Box for a chance to win the Level 1 or Level 10 Ruby Fireproof Shield! Other prizes include Hacker's Crates, Market Crash Mystery Boxes, Bombas, Decimators, Incineraptors, Vermillion Fireproof Shields, Fireproof Tokens, Hacker's Patches, Accelerators or the Bomba Box!

Priced at only 10 Platinum, this box won't last long!

--The Edgeworld Team

"

—Edgeworld, Mail
Heart Shaped Box!, 2014 Aug 1 0:00 (23h59m)
Edit
"
The Heart Shaped Box is back!

Zoot's got a soft side, and the Heart Shaped Box is proof! Priced at only 1 Platinum, you could win some of Cerulea's most fabled and coveted prizes! Hacker's Crates, 5.0 Tokens, Cerulean Construction Crates and the Level 18 Vermillion Network Sabotage are just a few of the prizes Zoot has packed into his Heart Shaped Box! Check the item description for a full list of prizes!

BONUS!
Buy 10 Heart Shaped Boxes between now and August 1st at 11:59pm PDT and you will get 1 Destruction MB FREE!
Buy 50 Heart Shaped Boxes between now and August 1st at 11:59pm PDT and you will get 1 Tr-Force Crate[sic] FREE! [LIMIT 10]

There is NO LIMIT to 10 Heart Shaped Box Tier. Limit 10 per 50 Heart Shaped Box Tier. Prizes will be delivered by 12:00 PDT on August 2nd.

From Zoot with Love!

"

—Edgeworld, Mail
Weekend Sales!, 2014 Aug 8 15:00 (2d21h)
Edit
"
Greetings Commander,

All weekend long, we'll be featuring different items on SALE! Check the store now deals on the Use The Force MB, Market Crash, Blast Bot MB and the Blast Core. Stock up today and dominate your opponents!

--The Edgeworld Team

"

—Edgeworld, Mail
Decimator Blowout - Limited Time!, 2014 Aug 11 8:00 (2d5h); Oct 29 12:00 (1d)
Edit
"
For a Limited Time only, guarantee yourself Decimators through our new Decimator Mystery Box! Each box will net you at least 1 Decimator, but bigger payouts are available leading all the way up to a possible 1,000! Purchase the Decimator Mystery Box for your chance to never have to train Decimators again!

Visit the featured tab of the shop to get yours today!

"

—Edgeworld, Mail
Weekend Sales, 2014 Aug 22 14:00 (2d22h)
Edit
"
Greetings Commander,

All weekend long, we'll be featuring different items on SALE! Check the store now deals on the Decimator Mystery Box, Target Practice MB, Blast Core and Lethal Force MB. Stock up today and dominate your opponents!

--The Edgeworld Team

"

—Edgeworld, Mail
Heart Shaped Box!, 2014 Aug 24 12:00 (1d)
Edit
"
The Heart Shaped Box is back!

Zoot's got a soft side, and the Heart Shaped Box is proof! Priced at only 1 Platinum, you could win some of Cerulea's most fabled and coveted prizes! Hacker's Crates, 5.0 Tokens, Cerulean Construction Crates and the Level 18 Vermillion Network Sabotage are just a few of the prizes Zoot has packed into his Heart Shaped Box! Check the item description for a full list of prizes!

BONUS!
Buy 25 Heart Shaped Boxes between now and August 25h at 12:00pm PDT and you will get 1 Eclipse-3 Schematic MB FREE!

There is NO LIMIT to this deal! Prizes will be paid out by 12:00pm PDT on August 26th.

From Zoot with Love!

"

—Edgeworld, Mail
Win the Level 18 Emerald Fireproof Shield!, 2014 Sep 2 12:00 (1d)
Edit
"
The Emerald Fireproof Shield is here! For only 149 Platinum. Strengthen your defenses against Bombas with the Emerald Fireproof Shield.

Other prizes include Emerald Fireproof Shield at Level 1, 10 or 15 and The Ruby Fireproof Shield.

Also possibilities:Incineraptors, Decimators, Blast Bots, Bombas, Bomba Box, Ruby Core, Eclipse Core, Blast Core, Incendiary Rack, Incineration Crate, Takeover Crate and Quadforce Crate!

When fully upgraded, the Emerald Fireproof Shield will give you an additional 711,900 Health AND will decrease the damage taken from Bombas by 75%!

--The Edgeworld Team

"

—Edgeworld, Mail
Heart Shaped Box!, 2014 Sep 3 12:00 (1d)
Edit
"
The Heart Shaped Box is back!

Zoot's got a soft side, and the Heart Shaped Box is proof! Priced at only 1 Platinum, you could win some of Cerulea's most fabled and coveted prizes! Hacker's Crates, 5.0 Tokens, Cerulean Construction Crates and the Level 18 Vermillion Network Sabotage are just a few of the prizes Zoot has packed into his Heart Shaped Box! Check the item description for a full list of prizes!

BONUS!
Buy 10 Heart Shaped Boxes between now and September 4th at 12:00pm PDT and you will get 1 Rebel's Ransack FREE!
Buy 50 Heart Shaped Boxes between now and September 4th at 12:00pm PDT and you will get 1 Tr-Force Crate[sic] FREE! [LIMIT 10]

There is NO LIMIT to this offer Buy 10 Tier. Limit 10 to the Buy 50 Tier. Prizes will be delivered by 12:00pm PDT on September 5th.

From Zoot with Love!"

"

—Edgeworld, Mail
Win the Level 18 Emerald Fireproof Shield!, 2014 Sep 9 8:00 (1d2h)
Edit
"
The Emerald Fireproof Shield is here! For only 149 Platinum. Strengthen your defenses against Bombas with the Emerald Fireproof Shield.

Other prizes include Emerald Fireproof Shield at Level 1, 10 or 15 and The Ruby Fireproof Shield.

Also possibilities:Incineraptors, Decimators, Blast Bots, Bombas, Bomba Box, Ruby Core, Eclipse Core, Blast Core, Incendiary Rack, Incineration Crate, Takeover Crate and Quadforce Crate!

When fully upgraded, the Emerald Fireproof Shield will give you an additional 711,900 Health AND will decrease the damage taken from Bombas by 75%!

--The Edgeworld Team

"

—Edgeworld, Mail
Emerald Blast Shield Mystery Box, 2014 Sep 13 8:00 (1d2h); Sep 24 8:00 (1d2h)
Edit
"
The Emerald Blast Shield Mystery Box is here! Open up this Mystery Box for a chance at the NEW Emerald Blast Shield at Level 18.

Other prizes include Emerald Blast Shield at Level 1 or 10 and Ruby Blast Shield at Level 1, 10 or 15.

Also possibilities: Explosive Ammo 5 Token, Piercing Ammo 5 Token, Decimators, Tri-Force Crate 1x or 2x, Quadforce Crate 1 or 2x, Takeover Crate, Hackers Patch, Black Market Patch, SPP 5000, 8 Hour Accelerator, 50% Training Accelerator, Incindiary[sic] Rack, Decimator Mystery Box, Blast Bots or Blast Shield Token 2.0.

When upgraded to level 19 it will add 823,620 Health to your Turrets, 74,508 damage and decrease the damage your Turrets take from Decimators by 77%!

Strengthen your defenses with the BRAND NEW Emerald Blast Shield today.

-Good Luck

"

—Edgeworld, Mail
Heart Shaped Box!, 2014 Sep 14 0:00 (23h59m)
Edit
"
The Heart Shaped Box is back!

Zoot's got a soft side, and the Heart Shaped Box is proof! Priced at only 1 Platinum, you could win some of Cerulea's most fabled and coveted prizes! Hacker's Crates, 5.0 Tokens, Cerulean Construction Crates and the Level 18 Vermillion Network Sabotage are just a few of the prizesZoot has packed into his Heart Shaped Box! Check the item description for a full list of prizes!

BONUS!
Buy 10 Heart Shaped Boxes between now and September 14th at 11:59pm PDT and you will get 1 Rebel's Ransack FREE!
Buy 50 Heart Shaped Boxes between now and September 14th at 11:59pm PDT and you will get 1 Tr-Force Crate FREE! [LIMIT 10]

There is NO LIMIT to this offer Buy 10 Tier. Limit 10 to the Buy 50 Tier. Prizes will be delivered by 12:00pm PDT on September 15th.

From Zoot with Love!

"

—Edgeworld, Mail
Ruby Box of Fire Bonuses!, 2014 Sep 16 12:00 (1d)
Edit
"
The Box of Fire is back and reloaded! Now you have a chance to win a Level 1 OR Level 10 Ruby Fireproof Shield in addition to the following prizes!

1,000 Decimators or Incineraptors!
5, 25, 100 or 500 Decimators or Incineraptors
Vermillion Fireproof Shields (Level 10, 15 or 17)
Cerulean Fireproof Shields (Level 10, 15 or 17)
Vermillion Spread Fire, Incendiary Cores, Incendiary Racks or Quadforce Crates!

BONUS: Purchase Boxes of Fire to win the following rewards! (Limit 1 Prize per Tier)

Purchase 10 Boxes and win 2 Tri-Force Crates!
Purchase 50 Boxes and win 2 Rebellion Crates! (+ Above Prizes)
Purchase 100 Boxes and win 8 Take Over Crates! (+ Above Prizes)

Event ends at 12:00pm PDT on September 17th. Prizes will be paid out by 12:00pm PDT on September18th.

"

—Edgeworld, Mail
Win the Level 18 Emerald Fireproof Shield!, 2014 Sep 19 0:00 (23h59m)
Edit
"
The Emerald Fireproof Shield Mystery Box is here! For only 149 Platinum. Strengthen your defenses against Bombas with the Emerald Fireproof Shield.

Other prizes include Emerald Fireproof Shield at Level 1, 10 or 15 and The Ruby Fireproof Shield.

Also possibilities:Incineraptors, Decimators, Blast Bots, Bombas, Bomba Box, Ruby Core, Eclipse Core, Blast Core, Incendiary Rack, Incineration Crate, Takeover Crate and Quadforce Crate!

When fully upgraded, the Emerald Fireproof Shield will give you an additional 711,900 Health AND will decrease the damage taken from Bombas by 75%!

BONUS! Buy 2 Emerald Fireproof Shield Mystery Boxes between now and September 19th at 11:59pm PDT and you will get 1 Emerald Fireproof Shield Mystery Box FREE!

There is NO LIMIT to this offer. Prizes will be delivered by 12:00pm PDT on September 20th.

--The Edgeworld Team

"

—Edgeworld, Mail
Weekend Sales, 2014 Sep 19 15:00 (3d19h)
Edit
Ruby Box of Fire Bonuses!, 2014 Sep 24 12:00 (1d)
Edit
"
The Box of Fire is back and reloaded! Now you have a chance to win a Level 1 OR Level 10 Ruby Fireproof Shield in addition to the following prizes!


1,000 Decimators or Incineraptors!

5, 25, 100 or 500 Decimators or Incineraptors
Vermillion Fireproof Shields (Level 10, 15 or 17)
Cerulean Fireproof Shields (Level 10, 15 or 17)
Vermillion Spread Fire, Incendiary Cores, Incendiary Racks or Quadforce Crates!

BONUS: Purchase Boxes of Fire to win the following rewards! (Limit 1 Prize per Tier)
Purchase 10 Boxes and win 2 Tri-Force Crates!
Purchase 50 Boxes and win 2 Rebellion Crates! (+ Above Prizes)
Purchase 100 Boxes and win 8 Take Over Crates! (+ Above Prizes)

Event ends at 12:00pm PDT on September 25th. Prizes will be paid out by 12:00pm PDT on September 26th.

"

—Edgeworld, Mail
Heart Shaped Box!, 2014 Sep 25 12:00 (22h)
Edit
"
The Heart Shaped Box is back!

Zoot's got a soft side, and the Heart Shaped Box is proof! Priced at only 1 Platinum, you could win some of Cerulea's most fabled and coveted prizes! Hacker's Crates, 5.0 Tokens, Cerulean Construction Crates and the Level 18 Vermillion Network Sabotage are just a few of the prizes Zoot has packed into his Heart Shaped Box! Check the item description for a full list of prizes!

BONUS!
Buy 10 Heart Shaped Boxes between now and September 26th at 10:00am PDT and you will get 1 Rebel's Ransack FREE!
Buy 50 Heart Shaped Boxes between now and September 26th at 10:00am PDT and you will get 1 Tr-Force[sic] Crate FREE! [LIMIT 10]

There is NO LIMIT to this offer Buy 10 Tier. Limit 10 to the Buy 50 Tier. Prizes will be delivered by 12:00pm PDT on September 27th.

From Zoot with Love!

"

—Edgeworld, Mail
Win the Level 18 Emerald Fireproof Shield!, 2014 Sep 26 12:00 (1d)
Edit
"
The Emerald Fireproof Shield Mystery Box is here! For only 149 Platinum. Strengthen your defenses against Bombas with the Emerald Fireproof Shield.

Other prizes include Emerald Fireproof Shield at Level 1, 10 or 15 and The Ruby Fireproof Shield.

Also possibilities:Incineraptors, Decimators, Blast Bots, Bombas, Bomba Box, Ruby Core, Eclipse Core, Blast Core, Incendiary Rack, Incineration Crate, Takeover Crate and Quadforce Crate!

When fully upgraded, the Emerald Fireproof Shield will give you an additional 711,900 Health AND will decrease the damage taken from Bombas by 75%!

BONUS! Buy 3 Emerald Fireproof Shield Mystery Boxes between now and September 27th at 12:00pm PDT and you will get 1 Supernova Mystery Box FREE!

There is NO LIMIT to this offer. Prizes will be delivered by 12:00pm PDT on September 28th.

--The Edgeworld Team

"

—Edgeworld, Mail
Emerald Fireproof Shield BONUS! 2014 Sep 29 0:00 (23h59m)
Edit
"
The Emerald Fireproof Shield Mystery Box is ON SALE for only 149 Platinum. Strengthen your defenses against Bombas with the Emerald Fireproof Shield.

Other prizes include Emerald Fireproof Shield at Level 1, 10 or 15 and The Ruby Fireproof Shield.

Also possibilities:Incineraptors, Decimators, Blast Bots, Bombas, Bomba Box, Ruby Core, Eclipse Core, Blast Core, Incendiary Rack, Incineration Crate, Takeover Crate and Quadforce Crate!

BONUS! If you buy 3 Emerald Fireproof Shield Boxes between now and 11:59pm PDT on September 29th, you'll WIN 1 X-Factor Crate FREE! (Limit 10)

This deal is limited to 10 prizes. Prizes will be delivered by 12:00pm PDT on September 30th.

--The Edgeworld Team

"

—Edgeworld, Mail
Achieve Maximum Force with a BONUS!, 2014 Oct 1 12:00 (1d)
Edit
"
The Maximum Force Box is now on sale in the Shop for only 30 Platinum! This box contains massive amounts of Troops that will provide you with Force when opened!

Win the Grand Prize of 1,000 Incineraptors inside! Other Top Tier Prizes include 50, 100 and 200 bundles of Premium Troops!

BONUS: Buy 5 Maximum Force Mystery Boxes between now and 12:00pm PDT on October 2nd and you'll win 1 Sharpshooter Mystery Box! (Limit 10)

Prizes will be sent by 12:00pm PDT on October 3rd. This deal is limited to 10 prizes.

Good luck!

--The Edgeworld Team

"

—Edgeworld, Mail
Decimator Mystery Box SALE!, 2014 Oct 1 16:00 (1d)
Edit
"
For a Limited Time only, guarantee yourself Decimators with the Decimator Mystery Box! Each box will net you at least 1 Decimator, but bigger payouts are available leading all the way up to a possible 1,000!

Visit the featured tab of the shop to get yours today!

"

—Edgeworld, Mail
Heart Shaped Box has RETURNED!, 2014 Oct 4 12:00 (1d)
Edit
"
Zoot's got a soft side, and the Heart Shaped Box is proof! Priced at only 1 Platinum, you could win some of Cerulea's most fabled and coveted prizes! Hacker's Crates, 5.0 Tokens, Cerulean Construction Crates and the Level 18 Vermillion Network Sabotage are just a few of the prizes Zoot has packed into his Heart Shaped Box! Check the item description for a full list of prizes!

BONUS!
Buy 5 Heart Shaped Boxes between now and October 5th at 12:00pm PDT and you will get 1 Halon Crate FREE!
Buy 50 Heart Shaped Boxes between now and October 5th at 12:00pm PDT and you will get 1 Emerald Spread Fire Mystery Box FREE!

Remember the Halon Crate contains a chance to win a Ruby Meteoric Barrier and the Emerald Spread Fire Mystery Box contains a chance to a Rebellion Patch!

There is NO LIMIT to this offer. Prizes will be delivered by 12:00 PDT on October 6th.

From Zoot with Love!

"

—Edgeworld, Mail
Emerald Fireproof Shield Box Super Sale!, 2014 Oct 5 10:00 (1d)
Edit
"
The Emerald Fireproof Shield Mystery Box is ON SALE at an all time low price: 125 Platinum! Strengthen your defenses against Bombas with the Emerald Fireproof Shield.

Other prizes include Emerald Fireproof Shield at Level 1, 10 or 15 and The Ruby Fireproof Shield.

Also possibilities:Incineraptors, Decimators, Blast Bots, Bombas, Bomba Box, Ruby Core, Eclipse Core, Blast Core, Incendiary Rack, Incineration Crate, Takeover Crate and Quadforce Crate!

When fully upgraded, the Emerald Fireproof Shield will give you an additional 711,900 Health AND will decrease the damage taken from Bombas by 75%!

--The Edgeworld Team

"

—Edgeworld, Mail
The new ANAGRAM BOX has arrived, 2014 Oct 8 17:00 (2d); Oct 13 16:00 (1d)
Edit
"
Greetings Commander,

We have found the NEW Edge Circuit Token inside The Anagram Box! The Edge Circuit Tokens are the newest and tokens of it's kind and named after the Commander that discovered it, Cam Anagram. The Edge Circuit Token protects the turret from attacksfrom Bombas, Incineraptors, Battle Cruisers and Decimators. When upgraded to Level 22 it also has +503,275 Health and +56,782 Damage.

Also in this box is a chance at Emerald Parts! Emerald Armor, Emerald Fireproof Shield and Emerald Blast Shield! IncendiaryRack, 8 Hour Accelerator, 15 Hour Accelerator, Rebellion Patch, 20x Decimator Platoon, 10x Battlecruiser Squad, 20x Sentinel Squad or 20x Incineraptor Swarm.

-Good Luck!

"

—Edgeworld, Mail
Maximum Force Mystery Box BONUS!, 2014 Oct 9 (10 0:00) (23h59m)
Edit
"
Greetings Commander,

Get a troop boost with the Maximum Force Mystery Box, now available for just 30 Platinum!

Win the Grand Prize of 1,000 Incineraptors inside! Other Top Tier Prizes include 50, 100 and 200 bundles of Premium Troops!

This Box can also contain Pulse Tanks, Sentinels, Berzerkers, Decimators, Battlecruisers and Incineraptors!

BONUS: Between now and 11:59pm PDT on October 10th, for every 5 Maximum Force Mystery Boxes you buy you'll get 2 Sharpshooter Boxes FREE!

There is NO LIMIT to this deal! Prizes will be given by 12:00pm PDT on October 11th.

Good Luck,

--The Edgeworld Team

"

—Edgeworld, Mail
Weekend Sales!, 2014 Oct 10 16:00 (2d20h)
Edit
Emerald Blast Shield Mystery Box, 2014 Oct 11 12:00 (1d)
Edit
"
Greetings Commander,

The Emerald Blast Shield odds have been DOUBLED for Level 1, 10 and 18!

Also possibilities: Ruby Blast Shield at Level 1, 10 or 15,Explosive Ammo 5 Token, Piercing Ammo 5 Token, Decimators, Tri-Force Crate 1x or 2x, Quadforce Crate 1 or 2x, Takeover Crate, Hackers Patch, Black Market Patch, SPP 5000, 8 Hour Accelerator, 50% Training Accelerator, Incindiary Rack, Decimator Mystery Box, Blast Bots or Blast Shield Token 2.0.

Strengthen your defenses with the BRAND NEW Emerald Blast Shield today.

BONUS: Starting now until 12:00pm PDT on October 12th, Buy 4 Emerald Blast Shield Mystery Boxes and you will win 1 X-Factor Crates FREE!

There is LIMIT 25 to this deal! Prizes will be paid out by 12:00pm PDT on October 13th.

-Good Luck

"

—Edgeworld, Mail
2x odds of winning Emerald Fireproof Shield!, 2014 Oct 14 16:00 (1d)
Edit
"
Greetings Commander,

Chances to win the Emerald Armor[sic] has now been DOUBLED for level 1, 10 and 18!

Strengthen your defenses against Bombas with the Emerald Fireproof Shield. Other prizes include Emerald Fireproof Shield at Level 1, 10 or 15 and The Ruby Fireproof Shield.

Also possibilities:Incineraptors, Decimators, Blast Bots, Bombas, Bomba Box, Ruby Core, Eclipse Core, Blast Core, Incendiary Rack, Incineration Crate, Takeover Crate and Quadforce Crate!

--The Edgeworld Team

"

—Edgeworld, Mail
Ruby Box of Fire Bonuses!, 2014 Oct 14 16:00 (1d)
Edit
"
The Box of Fire is back and reloaded! Now you have a chance to win a Level 1 OR Level 10 Ruby Fireproof Shield in addition to the following prizes!


1,000 Decimators or Incineraptors!

5, 25, 100 or 500 Decimators or Incineraptors
Vermillion Fireproof Shields (Level 10, 15 or 17)
Cerulean Fireproof Shields (Level 10, 15 or 17)
Vermillion Spread Fire, Incendiary Cores, Incendiary Racks or Quadforce Crates!

BONUS: Purchase Boxes of Fire to win the following rewards! (Limit 1 Prize per Tier)

Purchase 10 Boxes and win 2 Tri-Force Crates!
Purchase 50 Boxes and win 2 Rebellion Crates! (+ Above Prizes)
Purchase 100 Boxes and win 8 Take Over Crates! (+ Above Prizes)

Event ends at 4:00pm PDT on October15th. Prizes will be paid out by 12:00pm PDT on October 16th.

"

—Edgeworld, Mail
Destruction Mystery Box BONUS!, 2014 Oct 18 (19 0:00) (23h59m)
Edit
"
Greetings Commander,

The Destruction Mystery Box contains The Ruby Blast Shield which when fully upgraded will add 582,000 Health to your Turrets, 51,000 damage and decrease the damage your Turrets take from Decimators by 70%!

This Mystery Box also gives you a chance at Incineraptor Swarms, Decimators, Tri-Force Crates, Quadforce Crates, Space Dragon Crate, G-Force Mystery Box, Hacker's Patch, Rebel's Ransack, Use The Force, Generals Spp 5000, 8-Hour Accelerator, 30% Training Accelerator, Lottery Token, Incendiary Core, Decimator Mystery Box, Bomba Box, Blast Shield Token and Blast Shield Token 2.0.

BONUS! Buy 1 Destruction Mystery Box between now and October 19th at 11:59pm PDT and you will WIN 1 Destruction Mystery Box FREE!

There is NO LIMIT to this offer. Prizes will be delivered by 12:00pm PDT on October 20th.

-The Edgeworld Team

"

—Edgeworld, Mail
Heart Shaped Box has RETURNED!, 2014 Oct 19 12:00 (1d)
Edit
"
Zoot's got a soft side, and the Heart Shaped Box is proof! Priced at only 1 Platinum, you could win some of Cerulea's most fabled and coveted prizes! Hacker's Crates, 5.0 Tokens, Cerulean Construction Crates and the Level 18 Vermillion Network Sabotage are just a few of the prizes Zoot has packed into his Heart Shaped Box! Check the item description for a full list of prizes!

BONUS!
Buy 5 Heart Shaped Boxes between now and October 20th at 12:00pm PDT and you will get 1 Halon Crate FREE!
Buy 50 Heart Shaped Boxes between now and October 20th at 12:00pm PDT and you will get 1 Emerald Spread Fire Mystery Box FREE!

Remember the Halon Crate contains a chance to win a Ruby Meteoric Barrier and the Emerald Spread Fire Mystery Box contains a chance to a Rebellion Patch!

There is NO LIMIT to this offer. Prizes will be delivered by 12:00 PDT on October 21st.

From Zoot with Love!

"

—Edgeworld, Mail
Emerald Blast Shield Mystery Box, 2014 Oct 20 10:00 (1d)
Edit
"
Greetings Commander, Open the Emerald Blast Shield Mystery Box for a chance at The Emerald Blast Shield for Level 1, 10 and 18! Also possibilities: Ruby Blast Shield at Level 1, 10 or 15,Explosive Ammo 5 Token, Piercing Ammo 5 Token, Decimators, Tri-Force Crate 1x or 2x, Quadforce Crate 1 or 2x, Takeover Crate, Hackers Patch, Black Market Patch, SPP 5000, 8 Hour Accelerator, 50% Training Accelerator, Incindiary Rack, Decimator Mystery Box, Blast Bots or Blast Shield Token 2.0. Strengthen your defenses with the BRAND NEW Emerald Blast Shield today. BONUS: Starting now until 12:00pm PDT on October 21st, Buy 5 Emerald Blast Shield Mystery Boxes and you will win 1 X-Factor Crates FREE! There is LIMIT 25 to this deal! Prizes will be paid out by 12:00pm PDT on October 22nd. -Good Luck
"

—Edgeworld, Mail
Win the Emerald Fireproof Shield!, 2014 Oct 20 (21 0:00) (23h59m)
Edit
"
The Emerald Fireproof Shield Mystery Box is here! For only 125 Platinum. Strengthen your defenses against Bombas with the Emerald Fireproof Shield.

Other prizes include Emerald Fireproof Shield at Level 1, 10 or 15 and The Ruby Fireproof Shield.

Also possibilities:Incineraptors, Decimators, Blast Bots, Bombas, Bomba Box, Ruby Core, Eclipse Core, Blast Core, Incendiary Rack, Incineration Crate, Takeover Crate and Quadforce Crate!

When fully upgraded, the Emerald Fireproof Shield will give you an additional 711,900 Health AND will decrease the damage taken from Bombas by 75%!

BONUS! Buy 3 Emerald Fireproof Shield Mystery Boxes between now and October 21st at 11:59pm PDT and you will get 1 Supernova Mystery Box FREE!

There is NO LIMIT to this offer. Prizes will be delivered by 12:00pm PDT on October 22nd

--The Edgeworld Team

"

—Edgeworld, Mail
The new ANAGRAM BOX has arrived, 2014 Oct 21 16:00 (1d)
Edit
"
Greetings Commander,

We have found the NEW Edge Circuit Token inside The Anagram Box! The Edge Circuit Tokens are the newest and tokens of it's kind and named after the Commander that discovered it, Cam Anagram. The Edge Circuit Token protects the turret from attacks from Bombas, Incineraptors, Battle Cruisers and Decimators. When upgraded to Level 22 it also has +503,275 Health and +56,782 Damage.

Also in this box is a chance at Emerald Parts! Emerald Armor, Emerald Fireproof Shield and Emerald Blast Shield! IncendiaryRack, 8 Hour Accelerator, 15 Hour Accelerator, Rebellion Patch, 20x Decimator Platoon, 10x Battlecruiser Squad, 20x Sentinel Squad or 20x Incineraptor Swarm.

BONUS: Between now and 4:00pm PDT on October 22nd, every 5 Anagram Boxes you buy will get you 1 Anagram Box FREE!

There is NO LIMIT to this deal. Prizes will be distributed by 12:00pm PDT on October 23rd.

-Good Luck!

"

—Edgeworld, Mail
Maximum Force Mystery Box BONUS!, 2014 Oct 25 8:00 (1d2h)
Edit
"
Greetings Commander,Get a troop boost with the Maximum Force Mystery Box, now available for just 30 Platinum!

Win the Grand Prize of 1,000 Incineraptors inside! Other Top Tier Prizes include 50, 100 and 200 bundles of Premium Troops!

This Box can also contain Pulse Tanks, Sentinels, Berzerkers, Decimators, Battlecruisers and Incineraptors!

BONUS: Between now and 10:00am PDT on October 26th, for every 5 Maximum Force Mystery Boxes you buy you'll get 2 Sharpshooter Boxes FREE!

There is NO LIMIT to this deal! Prizes will be given by 12:00pm PDT on October 27th.

Good Luck,

"

—Edgeworld, Mail
Heart Shaped Box has RETURNED!, 2014 Oct 26 12:00 (1d)
Edit
"
Zoot's got a soft side, and the Heart Shaped Box is proof! Priced at only 1 Platinum, you could win some of Cerulea's most fabled and coveted prizes! Hacker's Crates, 5.0 Tokens, Cerulean Construction Crates and the Level 18 Vermillion Network Sabotage are just a few of the prizes Zoot has packed into his Heart Shaped Box! Check the item description for a full list of prizes!

BONUS!
Buy 10 Heart Shaped Boxes between now and October 27th at 12:00pm PDT and you will get 1 Maximum Force MB FREE!
Buy 100 Heart Shaped Boxes between now and October 27th at 12:00pm PDT and you will get 1 Ultramagnetic Mystery Box FREE! (LIMIT 10)

There is NO LIMIT to the 10 Tier. Limit 10 to the 100 Tier. Prizes will be delivered by 12:00 PDT on October 28th.
From Zoot with Love!

"

—Edgeworld, Mail
Ruby Box of Fire Bonuses!, 2014 Oct 28 16:00 (1D)
Edit
"
The Box of Fire is back and reloaded! Now you have a chance to win a Level 1 OR Level 10 Ruby Fireproof Shield in addition to the following prizes!


1,000 Decimators or Incineraptors!

5, 25, 100 or 500 Decimators or Incineraptors
Vermillion Fireproof Shields (Level 10, 15 or 17)
Cerulean Fireproof Shields (Level 10, 15 or 17)
Vermillion Spread Fire, Incendiary Cores, Incendiary Racks or Quadforce Crates!

BONUS: Between now and 4pm PDT on October 29th, every 2 Ruby Boxes of Fire you buy will get you 1 Saboteur's Kit FREE!

This deal is limited to 25 prizes.Prizes will be distributed by 12pm PDT on October 30th

"

—Edgeworld, Mail