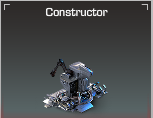 General information
Edit
| | | |
| --- | --- | --- |
| " | The Constructor building manufactures advanced construction nanos which reduces[sic] the time it takes to build any structure. | " |
Notes About the Constructor: 
If you have more than one Constructor, simply add the two percentages together and that is your time reduction.
On the Aurora 1 and Caldera 2 there is a glitch where it shows that it will take the full amount of time regardless of the level of your Constructor; this does not reflect how long it will actually take. Once you click "Build," the reduction will be factored in and can then be seen on the progress bar.
Total Build Time:
Constructor #1 (Level 1 to Level 15):

25 Days 11 Hours 1 Minute 18.75 Seconds
Results in a 12.5% time reduction on all constructions (includes your A1 and C2)

Constructor #2 (Level 1 to Level 15):

22 Days 2 Hours 22 Minutes 56.25 Seconds
Results in an additional 12.5% time reduction

Total Time to Build Two Level 15 Constructors:

47 Days 13 Hours 24 Minutes 15 Seconds
Results in a 25% time reduction on all constructions 
Notes About the Previous Calculation:

I did not factor in how long it would take to build the level 1 Constructors since they only take 12 seconds each.
This calculation takes into account the time reduction on a level by level basis and shows how long it would take for someone to take one Constructor from level 1 all the way to level 15 (consecutively - one right after the other).
The "Constructor #2" section shows how long it would take to upgrade a second Constructor from level 1 to level 15 after upgrading the first Constructor to level 15 (taking into account the percentage from the first Constructor, at level 15, as well as the additional reduction as you upgrade the second Constructor).
Constructor "Break Even" Point:
One Constructor (to level 15):

169 Days 17 Hours 28 Minutes 45 Seconds of build time
Divided Across Three Bases: 56 Days 13 Hours 49 Minutes 35 Seconds

Two Constructors (to level 15):

190 Days 5 Hours 37 Minutes of build time
Divided Across Three Bases: 63 Days 9 Hours 52 Minutes 20 Seconds

Notes About This Calculation:

"Build Time" is defined as the amount of time a building takes to finish.
The reductions that you receive on your A1 and C2 constructions while the Constructors are being upgraded would count towards the "Break Even" point. 
The above build time reflects the amount of build time it would take to make up for the time lost upgrading the Constructors.
This is a total build time that can then be divided across all of your bases (HQ, A1, and C2).
If you were to use a boost for a building, the time saved would still count towards the build time.
New Constructor Building!
Edit
"
The New "Constructor" building manufactures advanced construction nanos to reduce the build times for your other structures!

Up to 2 of these buildings can constructed and upgraded, with each building and level further decreasing the overall build times for the rest of your base.

Make sure to check these new buildings out and see the impact for yourself today!

"

—Edgeworld, Mail, 2013 Feb 15
You can build the second Constructor once your Command Center is level 13 and your Defense Lab is level 12.
Level
Health
Time
Cores
Time
Reduction
1
500
12s
50
50
0.50%
2
1,000
1m
400
400
0.75%
3
1,500
5m
1,000
1,000
1.00%
4
2,000
25m
5,000
5,000
1.25%
5
2,500
8h20m
50,000
50,000
1.50%
6
3,000
20h50m
50,000
50,000
1.75%
7
3,500
1d7h15m
50,000
50,000
2.00%
8
4,000
1d20h6m
50,000
50,000
2.25%
9
4,500
2d8h57m
100,000
100,000
3.50%
10
4,500
2d21h48m
500,000
500,000
4.50%
11
5,000
3d10h40m
500,000
500,000
5.50%
12
5,500
3d10h40m
500,000
500,000
6.50%
13
6,000
3d10h40m
500,000
500,000
8.00%
14
6,000
3d10h40m
1,000,000
1,000,000
10.00%
15
6,000
3d10h40m
1,000,000
1,000,000
12.50%
16
6,500
5d18h20m
1,200,000
1,200,000
15.00%
17
7,000
6d11h
1,400,000
1,400,000
17.50%
18
7,500
6d22h40m
1,500,000
1,500,000
20.00%