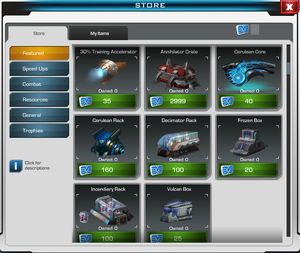 You can purchase various items for use in the game from the store page with Platinum. Featured, Resources, Speed Ups, General, and Combat are the categories.
Promotions
Edit
We give thanks with a week full of AMAZING DEALS!, 2014 Nov 25
Edit
"
Greetings Commander,

This week we give thanks to you all for your service to the advancement of Cerulea! An interstellar cornucopia of prizes has found its way to our world, and we want you to reap the benefits!

So, this week we'll be featuring ALL TIME LOW prices on some of our most sought-after items, and keep an eye out for a FREE GIFT from our team!

--The Edgeworld Team

"

—Edgeworld, Mail
REBEL RIOT!, 2014 Dec 8
Edit
"
ALERT: TO ALL COMMANDERS OF CERULEA

The Rebellion has overrun the Edgeworld headquarters and Rebels are now running the show!

To give our fellow liberators a chance at glory, the Rebellion has postponed the next tournament and for the next 24 hours the Rebels will be stuffing Mystery Boxes and Crates with more prizes and increased odds!

For the next week, daily login prizes have been changed, and we've forced Zoot to change his entire inventory!

The Rebellion won't be able to maintain control for long, so riot with us and stock up on rare items!


--The Edgeworld Team

"

—Edgeworld, Mail
Mystery Box MANIA!, 2015 Jan 15
Edit
"
Greetings Commander,

Zoot was poking around his inventory and he knocked over a shelf revealing a ton of low-cost, rarely seen mystery boxes. He's decided to spruce them up and sell them at amazing prices along with excellent BONUS PRIZES!

From now until 11:59pm PST on January 15th, rare Mystery Boxes will be popping into the store! Take advantage of these spectacular deals while you can!

Good luck!

--The Edgeworld Team

"

—Edgeworld, Mail
Ad blocker interference detected!
Wikia is a free-to-use site that makes money from advertising. We have a modified experience for viewers using ad blockers

Wikia is not accessible if you've made further modifications. Remove the custom ad blocker rule(s) and the page will load as expected.