Ad blocker interference detected!
Wikia is a free-to-use site that makes money from advertising. We have a modified experience for viewers using ad blockers

Wikia is not accessible if you've made further modifications. Remove the custom ad blocker rule(s) and the page will load as expected.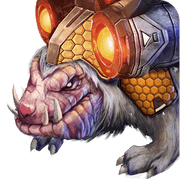 General information
Edit
| | | |
| --- | --- | --- |
| " | From the frozen wastes of Cerulea, these trained beasts carry powerful, and highly unstable, pulse cannons on their backs! | " |
The Bomba is exclusive to Aurora-1 colony but can be transferred to Main Base using the Warp Gate. Bombas explode when they die, and leave a mid-range spreading attack upon nearby buildings. The last attack may be very useful to clear a path for other combat units. Their better statistics to Rhinos or Titans make them the next replacement. Group the Bombas before Specters, Chimeras, or Devastators for effective attack against a tougher Base, before Raiders for resource harvesting on Farms, or before Decimators or Incineraptors for the top bases.
Range
Rate
Speed
Size
Training
Time
25
30
70
3
3m
Level
Damage
Health
Training
Research
Defense
Cores
Time
Damage
Cores
Time
1
32
2,000
5,000
10,000
5,000
4h
−10
10,000
5,000
4h
2
35
2,100
5,000
100,000
50,000
8h
−11
100,000
50,000
8h
3
40
2,250
5,000
100,000
50,000
16h
−14
100,000
50,000
16h
4
45
2,300
5,000
100,000
50,000
1d8h
−17
100,000
50,000
1d8h
5
49
2,400
5,000
100,000
50,000
2d16h
−20
100,000
50,000
2d16h
6
54
2,500
5,000
100,000
50,000
3d11h20m
−23
100,000
50,000
3d11h20m
7
60
2,600
5,000
100,000
50,000
3d11h20m
−27
100,000
50,000
3d11h20m
8
70
4,000
5,000
100,000
50,000
3d11h20m
-33
100,000
50,000
3d11h20m
9
80
6,000
5,000
100,000
50,000
3d11h20m
−40
100,000
50,000
3d11h20m
10
120
8,000
5,000
100,000
50,000
3d11h20m
−66
100,000
50,000
3d11h20m
11
140
12,000
5,000
100,000
50,000
3d11h20m
−84
100,000
50,000
3d11h20m
12
160
12,000
5,000
100,000
50,000
3d11h20m
−104
100,000
50,000
3d11h20m
13
180
12,000
5,000
100,000
50,000
3d11h20m
−126
100,000
50,000
3d11h20m
14
200
12,000
5,000
100,000
50,000
3d11h20m
−150
100,000
50,000
3d11h20m
15
220
12,000
5,000
100,000
50,000
3d11h20m
−165
100,000
50,000
3d11h20m
16
240
12,000
6,000
120,000
60,000
3d11h20m
−185
100,000
50,000
3d11h20m
17
260
12,000
7,000
150,000
70,000
4d4h
−205
120,000
60,000
3d11h20m
18
280
12,000
8,000
150,000
70,000
4d20h40m
−225
120,000
60,000
4d4h
19
300
12,000
9,000
150,000
70,000
 2
4d20h40m
−245
120,000
60,000
 2
4d20h40m
20
320
12,000
10,000
150,000
70,000
 2
4d20h40m
−265
120,000
60,000
 2
5d13h20m
21
340
12,000
11,000
150,000
70,000
 2
4d20h40m
−285
120,000
60,000
 2
6d6h
22
360
12,000
12,000
150,000
70,000
 2
4d20h40m
−305
120,000
60,000
 2
6d22h40m
Platoons are on SALE!, 2014 Sep 4 8:00 (1d3h)
Edit
"
Greetings Commander,

For a limited time we are offering sales on Bomba Swarms, Pyro Swarms and Devastator Platoons. So hurry up and build up your Force in the current Tournament and pick up a few Platoons!

-Good Luck!

"

—Edgeworld, Mail
Promotions
Edit
Bomba Platoon SALE!, 2014 Oct 11 13:00 (1d1h)
Edit
"
Greetings Commander,

For a limited time, stock up on Bomba Platoons in the store today for only 2 Plat!

BONUS: Starting now until 2:00pm PDT on October 12th, Buy 10 Bomba Platoons and you will win 1 Triple Threat Mystery Box FREE!

There is NO LIMIT to this deal! Prizes will be paid out by 12:00pm PDT on October 13th.

"

—Edgeworld, Mail