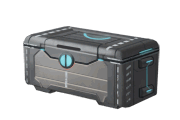 General information
Edit
This crate is intended for lower level players.
Formerly contained
Edit
Beginner's Kit, 2012 Sep 7
Edit
"
Commander, in order to assist with your galactic conquest, you have been provided with additional supplies containing the following:

10x 5-Min Accelerator
4x 15-Min Accelerator
2x 1-Hour Accelerator
1x 50,000 Crystals
1x 50,000 Gas
1x 50,000 Energy
1x 50,000 Uranium


Use them wisely and best of luck!

"

—Edgeworld, Mail
Get your FREE Beginner's Crate!, 2012 Mar 14
Edit
"
Welcome to Edgeworld, Commander!

A leader of your caliber will go far in the battle to dominate Cerulea IV!

To aid you in these first days, we are pleased to offer a special bonus for new Commanders only: take advantage of Edgeworld [https://www.kabam.com/edgeworld/play?path=/platinum Platinum] and we will give you a bonus FREE Beginner's Kit with the purchase of our 155 platinum package!

The Beginner's Kit contains a variety of Accelerators to speed your building construction and troop training, tokens for the always-popular Zoot's Loot chance game and XP boosting Combat Tactics to help you level up faster and grow your power! Get your FREE bonus gift before its[sic] too late. This offer expires within 7 days of joining Edgeworld!

[https://www.kabam.com/edgeworld/play?path=/platinum Click Here] to get some Platinum and claim your FREE Beginner's Kit!

Once you've made your purchase, keep an eye on your in-game mail in the coming days for your FREE Beginner's Kit!

"

—Edgeworld, Mail
Ad blocker interference detected!
Wikia is a free-to-use site that makes money from advertising. We have a modified experience for viewers using ad blockers

Wikia is not accessible if you've made further modifications. Remove the custom ad blocker rule(s) and the page will load as expected.