Ad blocker interference detected!
Wikia is a free-to-use site that makes money from advertising. We have a modified experience for viewers using ad blockers

Wikia is not accessible if you've made further modifications. Remove the custom ad blocker rule(s) and the page will load as expected.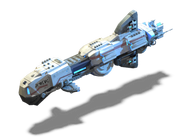 General information
Edit
| | | |
| --- | --- | --- |
| " | An advanced Battle Ship capable of dealing massive damage to multiple targets | " |
Thread: Introducing the Battle Cruiser! - Nicholas N. - 4/11/2013 @ 03:49 PM
Two oddly striped Cruisers can be found in the background of the loading screen. This Edgeworld Splashscreen first appeared before Jan 18, 2013 and might show the next 'Troop' in the foreground, in addition to the two Battle Cruisers.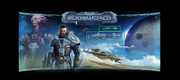 Research requires a L4 Tech Lab on Caldera-2. Defence research requires a L15 Defense Lab. Training can be done at Factories on Caldera-2.
Size
Splash
Targets
Training
Time
15
30
4
1h30m
Level
Damage
Health
Range
Rate
Speed
Training
Research
Defense
Force
Cores
Cores
Time
Damage
Cores
Time
1
700
100,000
200
100
75
200,000
100
100
2h
−140
100
100
5h
165
2
800
120,000
200
100
75
200,000
1,000
1,000
5h
−178
1,000
1,000
10h
660
3
900
140,000
200
100
75
200,000
10,000
10,000
10h
−220
10,000
10,000
16h40m
1,485
4
1,000
160,000
210
100
80
200,000
10,000
10,000
1d9h20m
−273
10,000
10,000
1d9h20m
2,640
5
1,200
180,000
210
100
80
200,000
10,000
10,000
1d9h20m
−360
10,000
10,000
3d11h20m
4,125
6
1,300
200,000
210
100
80
200,000
100,000
100,000
2d12h
−418
100,000
100,000
3d11h20m
5,940
7
1,400
220,000
230
100
80
200,000
1,000,000
1,000,000
2d12h
−490
1,000,000
1,000,000
3d11h20m
8,085
8
1,500
240,000
230
100
85
200,000
2,500,000
2,500,000
2d12h
−560
2,500,000
2,500,000
3d11h20m
10,560
9
1,600
260,000
230
100
85
200,000
5,000,000
5,000,000
2d12h
−640
5,000,000
5,000,000
3d11h20m
13,365
10
1,700
280,000
250
110
85
200,000
7,500,000
7,500,000
3d11h20m
−722
7,500,000
7,500,000
3d11h20m
16,500
11
1,900
310,000
250
110
85
200,000
10,000,000
10,000,000
3d11h20m
−855
10,000,000
10,000,000
3d11h20m
19,965
12
2,100
340,000
250
110
85
200,000
10,000,000
10,000,000
3d11h20m
−995
10,000,000
10,000,000
3d11h20m
23,760
13
2,300
370,000
270
110
90
200,000
10,000,000
10,000,000
3d11h20m
−1,150
10,000,000
10,000,000
3d11h20m
27,885
14
2,500
400,000
270
110
90
200,000
10,000,000
10,000,000
3d11h20m
−1,250
10,000,000
10,000,000
3d11h20m
32,340
15
2,700
430,000
275
120
90
200,000
10,000,000
10,000,000
3d11h20m
−1,350
10,000,000
10,000,000
3d11h20m
37,340
16
2,900
460,000
280
120
90
220,000
12,000,000
12,000,000
3d11h20m
−1,450
12,000,000
12,000,000
3d11h20m
42,240
17
3,150
500,000
280
120
90
250,000
15,000,000
15,000,000
4d4h
−1,550
14,000,000
14,000,000
4d4h
47,685
18
3,400
540,000
280
120
90
280,000
15,000,000
15,000,000
4d20h40m
−1,650
14,000,000
14,000,000
4d20h40m
53,460
19
3,650
580,000
280
120
90
310,000
15,000,000
 2
15,000,000
 2
5d13h20m
−1,750
14,000,000
14,000,000
 2
5d13h20m
59,565
20
3,900
620,000
280
120
90
340,000
15,000,000
 2
15,000,000
 2
6d6h
−1,850
14,000,000
14,000,000
 2
6d6h
66,000
21
4,150
660,000
280
120
90
370,000
15,000,000
 2
15,000,000
 2
6d22h40m
−1,950
14,000,000
14,000,000
 2
6d22h40m
72,765
22
4,400
700,000
280
120
90
400,000
15,000,000
 2
15,000,000
 2
7d15h20m
−2,050
14,000,000
14,000,000
 2
7d15h20m
79,860
Promotions
Edit
Battle Cruiser/2013#Promotions, Battle Cruiser/2014#Promotions, Battle Cruiser/2015#Promotions, Battle Cruiser/2016#Promotions